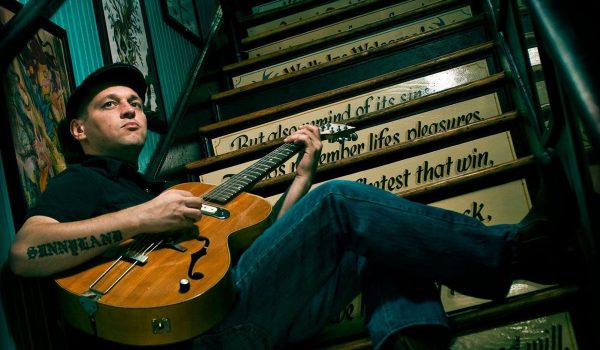 LITTLE G WEEVIL is een internationaal tourende zanger-gitarist en singer-songwriter die de blues op meesterlijke wijze speelt en met een buitengewone fingerpicking techniek de luisteraar op reis neemt door talloze bluesstijlen.
Na een aantal jaren van afwezigheid tourt hij van 6 t/m 13 februari weer door Nederland en België.
Little G. Weevil werd in 1977 geboren in Budapest, Hongarije als Gábor Szücs. Op 12-jarige leeftijd viel het ijzeren gordijn en werd de jonge Gábor verliefd op de bluesplaten die vanaf dan het land vrijelijk instroomden. Al snel wijdde G. zich eraan om zelf de blues te spelen en in 1996 vormde hij zijn eigen band. Een jarenlang gekoesterde droom om naar het Amerikaanse zuiden af te reizen werd in 2004 werkelijkheid en via Alabama trok hij naar Memphis om er aan de bekende Beale Street werk te vinden, eerst nog als afwasser maar al snel maakte hij naam als bluesmuzikant.
Zijn debuut, het volledige akoestische "SOUTHERN EXPERIENCE" kwam uit in 2008. In 2012 werd zijn tweede album "THE TEASER" door het blad Mojo Magazine opgemerkt en verkozen in de top 10 beste bluesalbums van dat jaar. In 2013 won hij in Memphis de International Blues Challenge als beste solo-gitarist. In datzelfde jaar bracht hij zijn derde album "MOVING" uit, een plaat met authentieke akoestische deep-down-home Blues. De recensies spraken boekdelen getuige één van de vele lofrijke quotes: "…recalling the foot banging percussion of John Lee Hooker, the directness of Mississippi John Hurt and the string bending, slide acumen of so many greats. All this and he's a white boy from Hungary. … any lover of the canonized, traditional old time blues cats will go nuts for this set. Killer stuf!" (Chris Spector, Midwest Record).
In 2016 ontving hij voor zijn vierde album Tree Chord Too Many een nominatie voor een Independent Blues Music Award als Best Acoustic Blues Album of Year. De opvolger in 2017 Something Poppin' werd genomineerd voor een Independent Blues Award in de categorie Best Modern Roots CD of the Year. Inmiddels vestigde Little G Weevil zich in Atlanta, GA van waaruit hij door de gehele USA tourt en het podium deelde met legendarische muzikanten als Johnny Winter, Neville Brothers, John Popper, Lee Oskar, Anson Funderburgh and the Rockets with Sam Myers, Denise Lasalle, Otis Taylor, Big Jack Johnson en Willie King.
Little G Weevil tourt in februari door Europa met zijn zesde en nieuwste album Back In Alabama dat in december 2018 uit kwam.
Waar is Little G Weevil te zien?
woensdag 6 februari: Rozenknop, Eindhoven
donderdag 7 februari: Stukafest, Hostel Roots, Tilburg
vrijdag 8 februari: Le Parc, Luik
zaterdag 9 februari: Stadsbrouwerij, Zaltbommel (middag)
zondag 10 februari: The Lane, Oostburg (middag)
maandag 11 februari: Bel Air, Breda
dinsdag 12 februari: Mississippi Blues & Roots Club, Gent
woensdag 13 februari: De Fabel, Heerlen
Website: www.gweevil.com