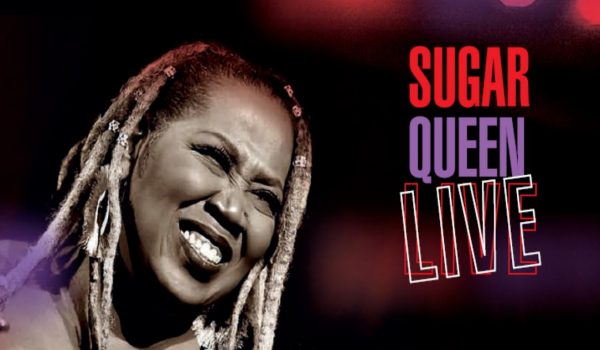 Album: SUGAR QUEEN LIVE
Artist: Sugar Queen & The Straight Blues Band
Record Label: Fandango Music
Release Date: 15/03/2019
Recensie: Ton Kok
Photo credits: Promoshots by Jelle de Potter Photography en Lola Reynaerts
In 2017 maken we kennis met Sugar Queen & the Straight Blues Band. Michele Denise liet met haar band vanaf het begin een prima indruk achter. Ook het debuut album 340 Blues voldeed aan alle verwachtingen. Begin dit jaar werd het nieuwe album Live opgenomen en is nu op de markt.
De afwisselend in Nederland en België wonende Amerikaanse wordt begeleid door een vierkoppige band met twee Nederlanders, Jean Raven op gitaar en Erwin Huigen op bas en twee Belgen, Andy Aerts (gitaar) en Thierry Stievenart (drums). Beide gitaristen zijn prima aan elkaar gewaagd en vullen elkaar ook prima aan. Andy zit meer in de Chicago hoek, terwijl Jean de Westcoast stijl prima in de vingers heeft.
Dan de frontvrouwe, soms zwoel, soms ondeugend, soms emotioneel en ingetogen en soms uitbundig, het er helemaal uitgooiend … wow. En dan hebben we het nog niet gehad over de prima podium performance van Michele Denise.

De dame is bovendien een prima songwriter, alle songs op het album zijn van haar eigen hand, een enkele keer met een beetje assistentie van Andy of Jean. De opnames zijn technisch perfect, de teksten van Sugar Queen zijn duidelijk te verstaan en ook instrumentaal klinkt het uitstekend.
Wat betreft de muziek, nou, ook daar is niets op aan te merken. Tien afwisselende nummers, die stuk voor stuk staan als een huis.

Openingsnummer is het up tempo 'Give Sugar', een nummer waarmee meteen een prima sfeer voor de rest van de set wordt neergezet. Mijn persoonlijke favoriet, voor het moment althans, is de slow blues 'Wanna Take My Man', een 'tongue in cheek' nummer, met een heerlijke tekst.
'Big Mama Told Me', gaat over het Hollandse spreekwoord: de liefde van de man gaat door de maag. Ook al zo'n lekker ironisch nummer. 'Twos And Fews' is in principe een standaard nummer, maar door een paar fraaie modulaties bij de solo's onderscheidt het zich.
Ook een van de hoogtepunten is de gospelachtige ballad 'Nothing Gonna Hold Me Back', dat ook voor een kippenvel momentje zorgt. 'Traveling Man' heeft eer heeerlijk drive en 'Hold Your Drank boogied er lekker op los.
Kortom, een heerlijk album dat met veel liefde en zorg gemaakt is.
De band heeft net een eerste toer door Duitsland achter de rug, maar is de komende tijd weer op de Nederlandse podia te bewonderen. Check HIER hun speelschema.
Give Sugar
Wanna Take My Man
Big Mama Told Me
Bullock Blues
Twos and Fews
Nothings Gonna Hold Me Back
Travelling Man
I Can"t Wait
Big Leg Girl
Hold Your Drank