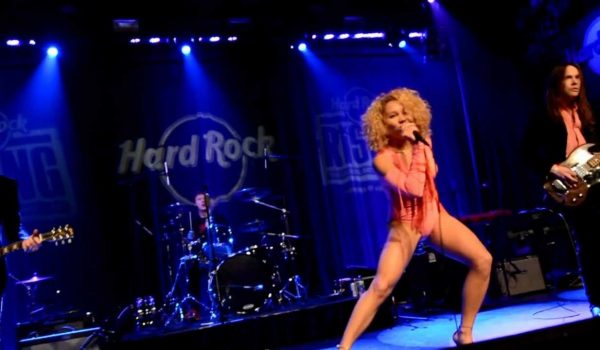 Zondagmiddag 31 Maart a.s. is 'new girl on the block' Liza Colby te zien in Muziekcentrum De Bosuil – Weert. Dit concert is GRATIS toegankelijk dus ik zeg niets te verliezen GAAN!!!
Deels sjamaan, deels verleidster, Liza Colby werd geboren om de Queen of Rock 'n Roll-mantel te dragen. Liza's zang is moedig kwetsbaar, schudt de balken en rammelt je ziel! Haar muziek is voor zondige zaterdagavonden en voor de verlossende zondagmorgen. Het is liefdesverdriet muziek; het is muziek van seksuele bevrijding; het is muziek voor wanneer het er het meest toe doet. Het is The Liza Colby Sound. Het is de muziek die we in deze tijd nodig hebben!
"Als ik zing, wil ik dat het badass is, vrouwelijk, kracht geeft en seksualiteit scheidt", zegt de kunstenares uit New York City. De Liza Colby Sound staat bekend om de gruis van garagerock, de kracht van klassieke arena-rock, de door zweet doordrenkte redding van een soul-revue, en de grijnzende uitdagendheid van punkrock uitdraagt.

De Liza Colby Sound bevat een drietal muzikanten die bijna twee decennia hebben gespeeld. Deze formidabele instrumentalisten beschikken over indrukwekkende cv's, waaronder werken met Ozzy Osbourne, Rick Derringer, Edgar Winter, Raging Slab, Suzanne Vega, Garland Jeffreys, Lenny Kaye, Jim Carroll Band, de Del Fuegos (met Dan Zanes), The Paley Brothers, Denis Leary , en Joey Ramone, naast andere bekende namen.

Waar:
Muziekcentrum De Bosuil
Vrakkerveld 2c
Weert
Wanneer: Zondag 31 Maart
Aanvang: 16:15 uur
Deuren open: 15:00 uur
Tickets: GRATIS