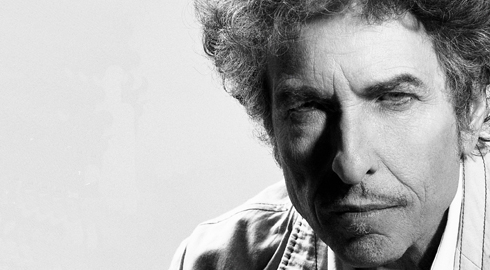 Concert aankondiging:
Wo/do 30/31 oktober 2013: Bob Dylan and his band in de Heineken Music Hall, Amsterdam Zuidoost
Aanvang: 20.00 uur; Tickets: € € 65,00 (ex. serv. kosten)
Foto: americansongwriter.com
Bob Dylan mag inmiddels een levende legende worden genoemd. Met nummers als Blowin' in the Wind en The Times They Are a-Changin' werd hij de stem van de protestgeneratie in de jaren '60. Met persoonlijke en poëtische teksten bracht hij literatuur en popmuziek bij elkaar. De Amerikaanse songwriter behoort tot de meest invloedrijke artiesten van de 20e eeuw. Zijn muziek en teksten inspireren tot op heden nog generaties muzikanten, van jong tot oud. Op woensdag 30 en donderdag 31 oktober staat Bob Dylan met zijn volledige band in de Heineken Music Hall. Kom dat zien, het kunnen zomaar eens de laatste optredens in Nederland zijn van deze 72-jarige legendarische songwriter.
Vorig jaar werd Dylan nog door president Barack Obama geëerd met de hoogste onderscheiding die aan burgers wordt gegeven door de Amerikaanse regering: de Presidential Medal of Freedom. Hij ontving deze prijs voor zijn grote betekenis in de Amerikaanse muziekcultuur. Ook bracht hij in september 2012 zijn 35e studioalbum 'Tempest' uit. Met deze plaat haalde Dylan, na 36 jaar, opnieuw de nummer 1 positie van de Nederlandse albumlijst. En onlangs verscheen ook Bob Dylan's The Bootleg Series Vol. 10 Another Self Portrait (1969 – 1971) en The Complete Album Collection Vol. 1 met 35 studio titels, 6 live albums, de 2-CD "Side Tracks" en een hardcover boek.
Kaartverkoop en informatie: www.ticketmaster.nl
en bezoek onze TheBluesAlone agenda !!