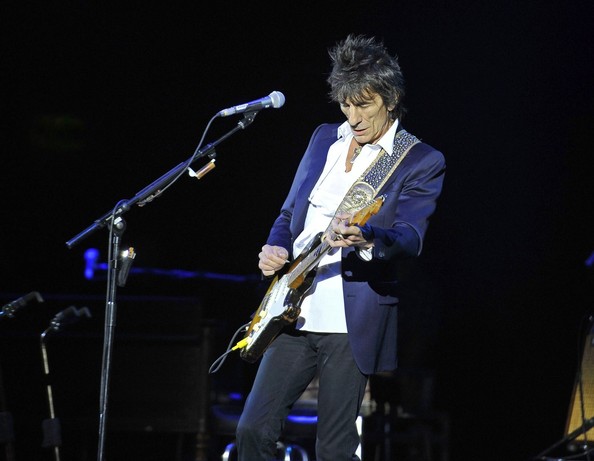 gezien & gehoord in HMV Hammersmith Apollo, London, England: Ronnie Wood & Friends tijdens Bluesfest 2012 op zaterdag 30 juni 2012. Review door Herman Bosschaart
met foto's van PacificCoastNews.com
"Wood was écht goed, Mick Taylor onzichtbaar en Bill Wyman was… Bill Wyman!" zo liet onze correspondent vanuit Londen weten. Als één van de hoogtepunten van het Bluesfest 2012 speelde Ronnie Wood & Friends in de bekende Londense entertainment venue ingericht in Art Deco stijl. Bij gebrek aan een '50 jaar Rolling Stones' optreden was dit 'the next best thing' om toch nog wat (ex) Stones coryfeeën bij elkaar op een podium te zien. Als ode aan het legendarische Chess Records label opende Ronnie Wood (65) samen met een 7-jarig jongetje de show met een medley. Onder luid gejuich speelde ze fragmenten uit songs van o.a. Etta James, Chuck Berry en Muddy Waters. Een korte geschiedenisles rock and roll voordat het concert begon, om aan te tonen wat de blues zoal had voort gebracht. Vervolgens werd Woody bijgestaan door zijn 'Friends' met als grootste blikvangers dus Bill Wyman en Mick Taylor.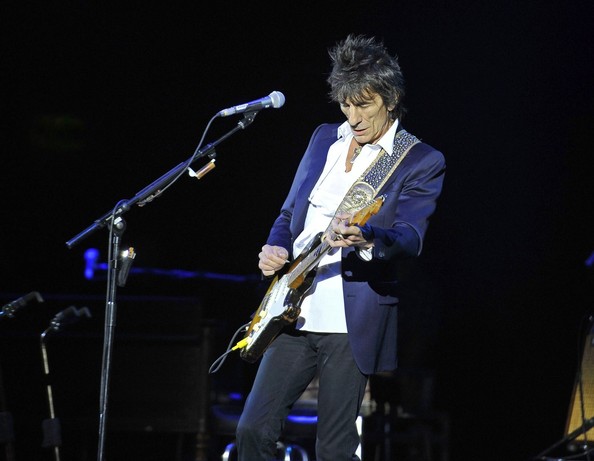 Vooraf was er veel gespeculeerd over de vrienden die Ronnie Wood zou meebrengen naar zijn 'Chess Show' onder de vlag van het Bluefest 2012 festival. De gebruikelijke speculaties waren niet van de lucht, variërend van Stones, Faces tot New Barbarians-achtige samenstellingen. Nu is het bij Ronnie zo dat de gehele muziekwereld wel bij hem kan aanschuiven omdat zijn eigen lijst als gastmuzikant ook erg groot is. Uiteindelijk is het onderstaande lijstje geworden, een soort Ronnie Wood and the Rhythm Kings. Een bonte verzameling, zeker in de relatie tot de Chess Blues periode. Ik kan me niet geheel aan de indruk ontrekken dat Ronnie het Bluesfest een toezegging (contract) heeft gedaan zonder al te weten hoe hij dat ging invullen en dat Bill hem hierbij de helpende hand heeft toegestoken. De line-up bestond uit:
– Andy Newmark, de drummer op Ronnie's eerste 2 soloalbums.
– Ali MacKenzie, de zanger van Ronnie eerste bandje The Birds.
– Simon Kirke, drummer van de formidabele bands The Free en Bad Company.
– Hamish Stewart, lid van de Average White Band en McCartney solo en Starr's All star band.
– Andy Wallace, bekend van Roger Waters "Flesh" periode (ook op soloalbum van Hamish Stewart)
– Sharleen Spiteri, bekend van de Schotse band Texas.
– Een onbekende blonde zangeres.
– James McCartney, met als enige verdienste de zoon van.
– Mick Taylor, ons wel bekent.
– Rhythm Kings leden: Bill Wyman, Geraint Stewart, Beverly Skeete Nick Payn en Frank Mead
De Rhythm Kings leden waarborgen een hoge kwaliteit en hebben ook ervaring in het spelen van de blues, zij leverden dan ook navenant evenals vrijwel alle andere aanwezigen een nuttige bijdrage. Beduidend onder de maat was de bijdrage van James McCartney, het uptempo van de Chuck Berry klassiekers 'Johnny B Goode' en 'Carol' kon hij niet aan en 'It's only Rock and Roll' leek helemaal nergens op. Bovendien heeft hij geen enkele uitstraling als artiest, waardoor zijn aanwezigheid eigenlijk een raadsel was. Helaas was ook Mick Taylor (door een voetblessure?) muzikaal gezien beperkt aanwezig. Hij was meer bezig met het afstellen van zijn instrumenten dan met de show, enkele mooie riffs en goed slideguitar spel daargelaten. Verassend was Ronnie's oude maatje Ali McKenzie met een goede uitvoering van 'Walking by Myself'. Deze jongen heeft niet stil gezeten sinds de opheffing van de The Birds. Maar de gehele show werd m.i. toch een succes door Ronnie Wood zelf. Hij was enthousiast en zeer gedreven bezig en daarbij in goede conditie. Hij gaf strakke solo's en leidde het geheel ook muzikaal, waarbij hij iedereen de ruimte gaf voor invulling van zijn deel. In de encore draaide Ronnie de geplande volgorde om, waarschijnlijk omdat hij 'It's Only Rock and Roll' beter aansluitend op "Celebrate the Chess Label" kon spelen.
Muzikale hoogtepunten van de avond waren verder 'Spoonfull', 'Walking by Myself', 'At Last', 'I'd Rather Go Blind' en natuurlijk Ronnie zijn gitaarspel!

[filmpje door: Kees Krechting]
Setlist
Introduction: Manish Boy (Ronnie with a little kid/Son of a Japanese fan?)
Ronnie introduce Blues Giants with Little Red Rooster, Mona, Boogie Chillun', Smokestack Lightnin'.
01. Hi Heel Sneakers (Robert Higginbotham aka Tommy Tucker) vocal Hamish Stewart
02. My Babe (Willie Dixon) vocal Onbekende blonde zangeres
03. 300 lbs Joy (Howlin' Wolf) vocal Geraint Watkins
04. Just Your Fool (Little Walter) vocal Frank Mead
05. You never can tell (Berry) vocal Bill Wyman
06. The Sun is Shining (Elmore James) vocal Ronnie Wood
07. Don't lie to me (Trad. / Tampa Red aka Hudson Whittaker) vocal Ronie Wood
08. Walking by My self (Jimmy Rogers) vocal Ali MacKenzie
09. Tell Mama (Etta James) vocal Beverly Skeete
10. Mojo boogie (JB Lenoir) vocal Beverly Skeete
11. At last (Etta James) vocal Beverly Skeete
12. Spoonful (W. Dixon) vocal Ronnie Wood
13. Big Town Playboy (Eddie Taylor) vocal Ronnie Wood
14. Talk to your Daughter (JB Lenoir) vocal Sharleen Spiteri
15. I Rather go Blind (Elington Jordan) vocal Sharleen Spiteri
16. Johnny Be Goode (Berry) vocal McCartney
17. Carol (Berry) vocal McCartney
18. I Just Wanna Make Love to You (Berry) vocal Onbekende blonde zangeres?
Encore:
19. Ain't Got No Home (Clarence Frogman Henry)/ vocals Ronnie Wood
20. It's only Rock and Roll (J&R) vocal McCartney/All