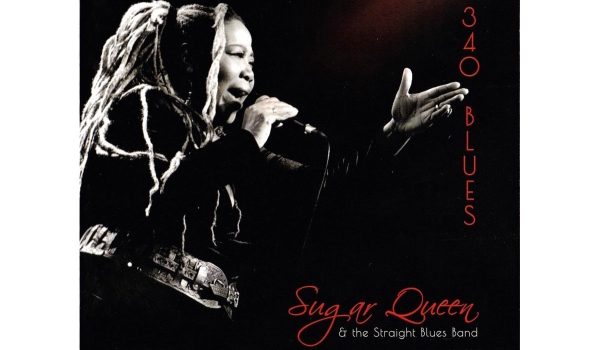 Album: SUGAR QUEEN & THE STRAIGHT BLUES BAND – 340 BLUES
Artist: Sugar Queen & the Straight Blues Band
Record Label: Eigen Beheer
Release Date: 07/01/2018
Recensie: Ton Kok
In april 2017 maakte Sugar Queen & the Straight Blues Band hun Nederlandse debuut. Het werd een mooi optreden op het Bluezy Festival in Ridderkerk van een band, die nog een beetje zoekende was en het publiek op veel covers trakteerde. Ik zag de band in de loop van het jaar nog een paar keer. De band was toen uitgegroeid tot een zelfverzekerd gezelschap, dat het publiek snel op de hand wist te krijgen, nog steeds met veel covers op de setlist.

Inmiddels heeft de band onder de titel '340 Blues' haar debuut CD afgeleverd, waarop we elf prima eigen nummers vinden met teksten van de in Nederland wonende Amerikaanse zangeres Michele Denise a.k.a. Sugar Queen. Enkele nummers schreef ze in haar eentje, bij andere krijgt ze assistentie van Andy Aerts (gitaar), Jean Raven (gitaar) en/of Ronald Burssens (bas). De band wordt gecompleteerd door harmonica speler Wim Heirbout en drummer Thierry Stievenart.

Het resultaat van hun inspanningen is een gevarieerde CD met een eigen geluid. De met Jean Raven geschreven nummers hebben een lekker Westcoast sfeertje, die met Andy Aerts een Chicago sfeer en die met Ronald Burssens zitten meer in de soul- en funkhoek. Voor mij is het sternummer "By The Law", een tamelijk beladen nummer, waarvan de frontvrouw zich afvroeg of ze met dit nummer in de V.S. wel weg zou komen. "Handfast Love" daarentegen is een heerlijk lichtvoetig werkje met een countrysfeertje, Dirk Lekenne speelt hier een prima stukje slide gitaar terwijl Wim Degeest de harmonica hanteert, Ook heel fraai is de ballad "I Miss You", waarin Wim Heirbout zijn klasse op de harmonica onderstreept.

Natuurlijk zijn de teksten gramaticaal helemaal in orde, wat echt niet standaard is bij Benelux producties. Instrumentaal klopt het ook helemaal, hoewel het net dat smerige randje van de live performances mist. Maar eigenlijk is dit een debuut CD waar verder niets op aan te merken is. Ik kan iedereen aanraden de band live aan het werk te gaan zien als ze in de buurt spelen. Jammer dat bassist Ronald Burssens de band om persoonlijke redenen heeft moeten verlaten. Hoewel er een prima opvolger voor hem is aangetrokken, zal ik zijn soms heerlijke jazzy baslijntjes missen.

De band is o.a. te zien op/bij:
Zaterdag 10 Maart: Blues Reünie Roof Full of Blues – 't Dak, Leerdam
Zondag 25 Maart (middag): Bluessocieteit L'Esprit, Rotterdam
Zondag 22 April (middag): Bluesclub XXL/De Patio, Wageningen

Tracklist:
Crab Boil Shuffle
Give Sugar
Wanna Take My Man
15 Dollars
Hey Guys
Handfast Love
By The Law
Moonshine Bill
I Can't Wait
Sugar Queen Blues Groove
I Miss You