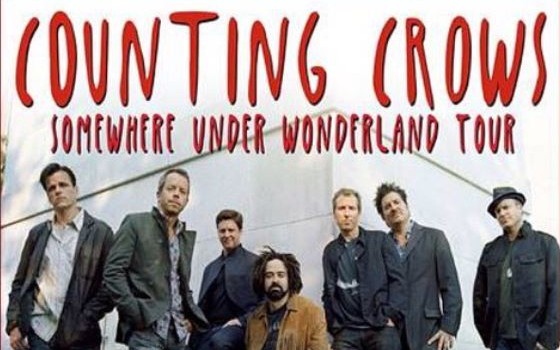 [KLIK HIER VOOR ONS VERSLAG VAN HET OPTREDEN IN DE HMH OP 14 NOV.]
Op vrijdag 14 november a.s. spelen de Counting Crows in de Heineken Music Hall, Amsterdam.
Zanger Adam Duritz en gitarist David Bryson richten in 1991 de band Counting Crows op. Nog geen jaar later volgt hun doorbraak tijdens de BMI Music Showcase. Ze hebben de ene hit na de andere waaronder 'Mr. Jones', 'Big Yellow Taxi' en 'Accidentally in Love'. In Nederland scoort de band samen met Bløf hun eerste nummer 1 hit met het nummer 'Holiday In Spain'. Ook nemen ze hier hun tweede live album 'New Amsterdam: Live at Heineken Music Hall' op tijdens één van de drie uitverkochte shows in 2003. Inmiddels heeft de band wereldwijd meer dan 20 miljoen albums verkocht.
Counting Crows hebben aangekondigd dit najaar hun wereldtournee Somewhere Under Wonderland in Europa te zullen voortzetten. De band die ook wel bekend staat als een van de meest dynamische live bands van het moment begint hun Europese tour op 1 november in Birmingham en reist naar steden zoals Glasgow, Londen, Parijs, Berlijn, op vrijdag 14 november de Heineken Music Hall in Amsterdam en de tour eindigt op 23 november in Milaan.
Tijdens deze tour zullen er nummers van het aanstaande album 'Somewhere Under Wonderland', hun eerste nieuw materiaal in zeven jaar (hun laatste album 'Underwater Sunshine' uit 2012 bevatte covers van o.a. Bob Dylan en Gram Parsons en in 2013 brachten ze het livealbum 'Echoes of the Outlaw Roadshow' uit), en hits van voorgaande albums voorbij komen. De release van het zevende album 'Somewhere Under Wonderland' staat gepland in september en is hun eerste studio album sinds 'Saturday Nights & Sunday Mornings' uit 2008. De nummer van Somewhere Under Wonderland zijn geschreven gedurende hun zomertournee in 2013. Het hele album is opgenomen in New York van december 2013 toten met februari 2014.
Bekend om het creëren van unieke en innovatieve concerten en behorend tot de lijst van beste live bands, treedt Counting Crows, naast de optredens in Europa, deze zomer ook op in Noord Amerika. Dit gedeelte van de tour start op 11 juni in Tampa Florida en reist af naar belangrijke markten inclusief hun thuisstad Berkeley, en eindigt op 17 augustus in het historische Greek Theatre in Los Angeles. Voor meer informatie en concertdata ga naar www.countingcrows.com
Counting Crows,  bestaan uit  Adam Duritz (zanger), Jim Bogios (drummer), David Bryson (gitarist), Charlie Gillingham (toetsenist), David Immergluck (gitarist), Millard Powers (bassist) and Dan Vickrey (gitarist).
Kaartverkoop via www.ticketmaster.nl of telefonisch via 0900-300 12 50 (45 c p/m).