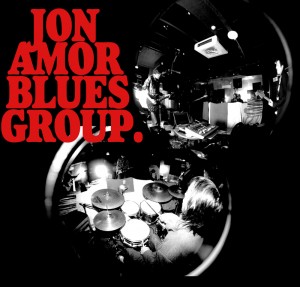 recensie door Bert Vethaak
Natuurlijk kennen we Jon Amor allemaal van The Hoax, een garage-blues band die in de jaren '90 furore maakte. Nadat in eind 1999 The Hoax uit elkaar viel, gingen alle leden hun eigen weg. Jon Amor deed dat vooral solo. Tijdens zijn optredens werd hij meestal begeleid door de broers Dave Doherty (gitaar / zang) en Chris Doherty (bas), aangevuld door Simon Small op drums. Door zijn drukke werkzaamheden met andere bands werd Simon Small tijdelijk vervangen door Mark Barret. Na een paar optredens werd besloten om officieel als band door te gaan om zo Small definitief binnen de gelederen te houden. Jon Amor Blues Group zag het levenslicht.
Inmiddels is op 19 september jl het officiële titelloze debuutalbum van de band uitgekomen. In 8 dagen tijd wist het kwartet 10, door Jon Amor geschreven, nummers op te nemen. En het resultaat liegt er niet om. 10 IJzersterke tracks met een eigen geluid, waar natuurlijk klanken in door klinken van "inspiratiebronnen" als The Black Keys, Muddy Waters, Jon Spencer en R.L. Burnside.
Opener Holy Water knalt gelijk met veel geweld de speakers uit, ruig en rauw. Een goede voorbode voor wat ons te wachten staat. Niet dat alles smerig, ruig rauw en hard is,
luister wat dat betreft maar eens naar het gitaarpop-achtige Sweetheart of het met 6:31 minuten lange slowbluesnummer When The Times Comes. Maar met Angel In A Black Dress en afsluiter You Know It's Only Love gaat de gaskraan weer volledig open.
Al met al is het een pittig en stevig album geworden en voor de liefhebbers van The Hoax en The Black Keys een must-have. Amor bewijst een meer dan verdienstelijk zanger te zijn en een voortreffelijke gitarist. Tezamen met zijn band hebben ze een juweel afgeleverd. Benieuwd hoe deze band klinkt? Begin november komen de mannen voor een clubtour naar ons land:
5 november De Lantaarn Hellendoorn
6 november De Bosuil Weert
18 november Paradiso Amsterdam
19 november Iduna Dachten
20 november W2 Den Bosch
3 december De Tamboer Hoogeveen
Wil je daar niet op wachten? Op de Luisterpaal van Radio 6 is het album in zijn geheel te horen.
Lees ook onze review van het optreden van Jon Amor in De Bosuil en tijdens de British Blues Awards.
en bezoek ook eens:
http://jonamorbluesgroup.wordpress.com/
http://www.facebook.com/jonamorbluesgroup
http://www.myspace.com/jonamorbluesgroup
http://www.broerepromotion.nl/broerepromotion.nl/Home.html