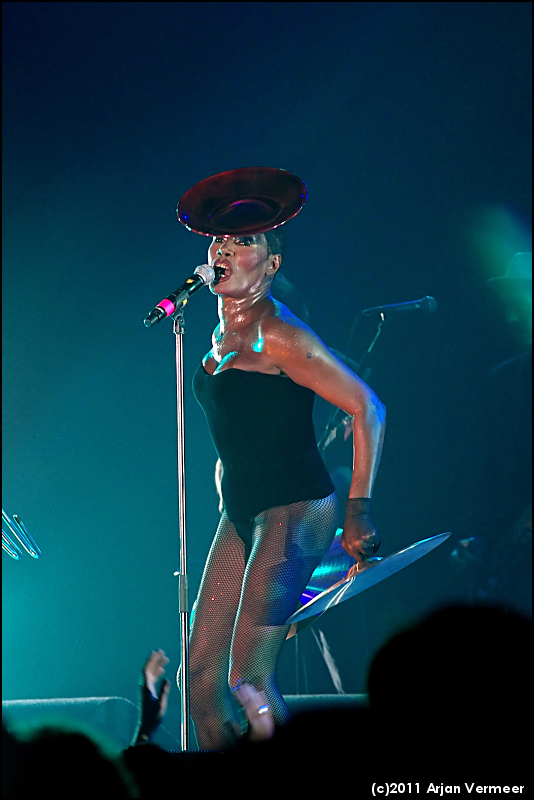 gezien & gehoord in: tent naast het Haagse Kyocera stadion
evenement: The Hague Jazz 2011
band: Grace Jones
datum: woensdag 15 juni 2011
review door: Giel van der Hoeven
foto's door: Arjan Vermeer – The Blues Alone ?
Grace Jones kondigde woensdag tijdens het openingsconcert van The Hague Jazz een aantal keren nummers van haar 'nieuwe album' aan. Maar tracks als '
Williams' Blood', 'This Is' en 'Well Well Well' kenden we toch echt al van de in 2008 verschenen CD 'Hurricane'. Navraag leert ons dat dit door Ivor Guest geproduceerde album met bijdragen van o.a. Brian Eno, Tricky, Wendy & Lisa en Sly & Robbie nu pas in 2011 (via PIAS) in Amerika uitkomt. Deze (re-)release zal gepaard gaan met een bonus dubversie van het album 'Hurricane V2' (In Dub) met voornamelijk instrumentale remixes van bestaande opnames. En dat is ook wat Mrs. Jones vandaag de dag live doet; een subgenre proberen uit te breiden buiten de reikwijdte van haar eigen ooit zo originele reggae-, funk- en Dub genre. Tijden veranderen maar Grace Jones qua uiterlijk ogenschijnlijk niet. Na 63 levensjaren is haar verschijning nog steeds indrukwekkend, gracieus en stijlvol. Een wolvin in (vaak schaarse) schaapskleding. Een strenge meesteres en een slavin van het ritme tegelijk. Eentje van de soort waarbij vergeleken de hedendaagse 'Ladies Ga Ga' onderdanig en preuts zijn. De ruimte tussen de nummers door gebruikt de extravagante diva om van outfit te wisselen met bizarre hoofddeksels, pruiken en attributen. Met geïmproviseerd monotoon praat-zingen soms begeleid door aangeschoten gegiechel kondigt ze de nummers aan.
'Nightclubbing' was de opener van een reeks dance tracks die woensdag de revue passeerde in de bijna uitverkochte tent naast het Haagse Kyocera stadion. Gevolgd door onder meer 'This Is', 'My Jamaican Guy' en de post-discosong 'Pull Up to the Bumper'. Jones heeft er destijds voor gekozen een aantal bekende hits te herinterpreteren, met inbegrip van 'Demolition Man' (Police), 'Love Is the Drug' (Roxy Music), Astor Piazzolla's 'Strange I've Seen That Face Before' en Édith Piaf's 'La Vie  en Rose'. Waarvan de laatste twee ook herkenningsmelodieën van Grace zelf zijn geworden! Want zangeres, actrice, model en homo-icoon Grace Jones teert vooralsnog hoofdzakelijk op de vergane glorie van weleer. Jammer genoeg worden sommige nummers dan ook slordig afgeraffeld en de Piaf klassieker zingt Jones in haar bijna-sopraan-modus zelfs vals. Door sterk gestileerde zang in 'Williams' Blood' komt ze wel weer in het juiste spoor maar het niveau van bijvoorbeeld het Lowlands 2009 
optreden wordt hier ook v.w.b. de sfeer niet gehaald. Simpelweg omdat de locatie in Den Haag te sfeerloos is (geen videoschermen of bar), Grace niet in topvorm is (en waarschijnlijk zelfs tipsy) en haar zevenkoppige band inclusief twee achtergrondzangeressen te statistisch zijn om er écht een onvergetelijke swingende avond van te maken. Een gemiste kans die vrijdag door haar op dit zelfde The Hague Jazz Festival ruimschoots goed gemaakt kan worden.
Setlist:
Nightclubbing
This Is
My Jamaican Guy
Demolition Man
I've Seen That Face Before (Libertango)
Love You to Life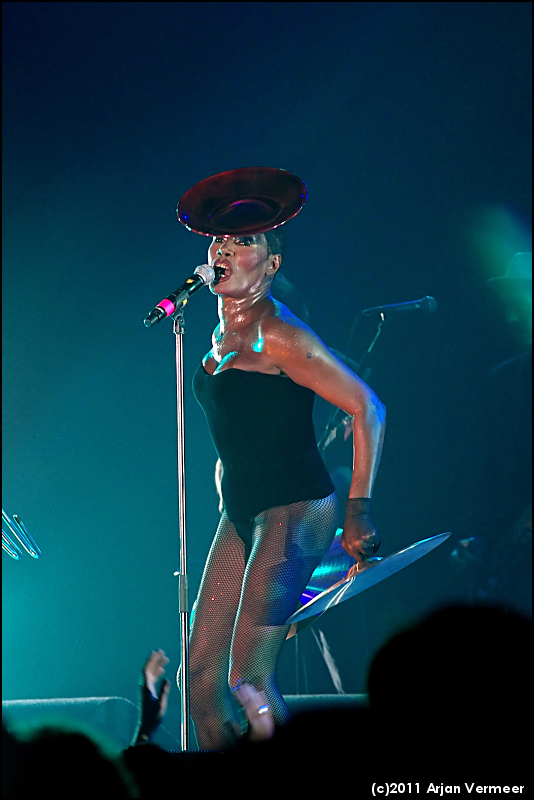 La Vie en Rose
Well Well Well
Williams' Blood
Pull Up to the Bumper
Love Is the Drug
Slave to the Rhythm
Hurricane