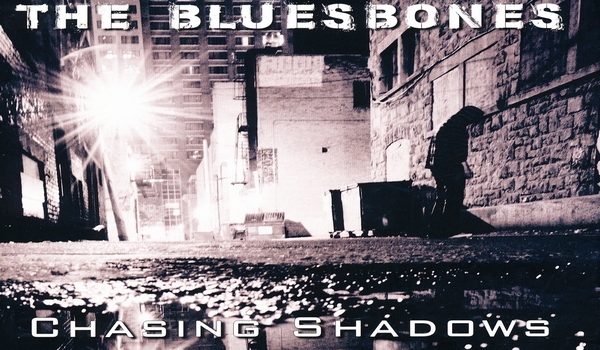 Album: Chasing Shadows
Artist: The BluesBones
Record Label: Naked Records
Release Date: 23/03/2018
Recensie: Roelf Rozema
The Bluesbones, zes jaar na het eerste album en wisselingen in de band, hebben een nieuwe richting gekozen. Anders dan de vorige albums, anders dan we live gewend zijn, meer de rock kant op, maar de wortels waren en blijven de blues. Elf eigen nummers en een "thema". Het thema is toch echt blues; de ellende van verlies tot bedrog, van hoop en de zoektocht naar echte liefde. Niets is zeker in het leven, maar we blijven schaduwen achtervolgen. Dus….
Nico de Cock, de fantastische zanger, is de hofleverancier van de nummers, met daarnaast gitarist Stef Paglia, de originele Bluesbones. Ongetwijfeld zijn de nieuwe leden de oorzaak van het verzetten van de koers; mede-schrijvers Edwin Risbourg (keyboards ) en Geert Boeckx (bas). Drummer is Koen Mertens.
Het eerste nummer, 'Find My Way Out', laat meteen de andere, rock richting horen, met een vooraanstaande rol voor de Hammond, maar ook gitaar en drums krijgen hun podium.
Onheilspellend , breed georchestreerd, in 'Going Down', bijna vrolijk, wah-wah- end (misleidend) worden de demonen bezongen in 'Demon blues', 'A Better Life' is een stompende bluesrock.
The Bluesbones hebben in hun bagage een paar indrukwekkende slow blues nummers, die vooral live grote indruk maken. Ondanks de meer rock-kant op dit album, wordt er toch weer een prachtig opgebouwde slowblues aan dit ouvre toegegevoegd, 'Sealed Souls'.
Verder gaat het; met een funky groove in 'Psycho Mind', rock & roll in 'Seesaw Blues', eindigend met 'The End', de apotheose.

Het mag duidelijk zijn, we hebben hier te maken met een zeer gevarieerd album, dat een andere richting opgaat dan we van The Bluesbones gewend waren. Nieuwe invloeden van nieuwe leden. Een interessante nieuwe richting, laat ook dat duidelijk zijn!
Blues puristen, Bluesbones-fans van het eerste uur, zullen in eerste instantie hun voorhoofd fronsen, maar kunnen gerust zijn; The Bluesbones zijn en blijven onmiskenbaar The Bluesbones. Het is prijzenswaardig dat ze zichzelf blijven uitdagen en een weidere muzikale horizon zoeken.
Tracklist:
Find My Way Out
Going Down
Demon Blues
A Better Life
Love Me Or Leave Me
Sealed Souls
Romance For Rent
Psycho Mind
Betrayal
Seesaw Blues
The End