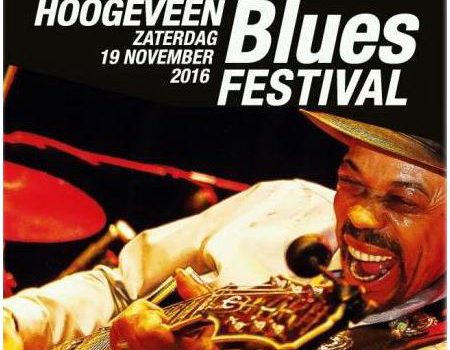 Zaterdag 19 november is de elfde editie van Bluesfestival Hoogeveen in Theater De Tamboer, dat geheel in het teken staat van de Chicago Blues.


Speciaal hiervoor bezochten de Tamboer-programmeurs het Chicago Blues Festival in de Verenigde Staten, op zoek naar veelbelovende acts. Overgevlogen vanuit Chicago komen levende legende John Primer en de nieuwe Jimi Hendrix: Jamiah on Fire & the Red Machine. Ook vanuit Ierland nieuw talent: Those Responsible. De Greyhound Blues Band verwelkomt Leon Blue, Kat Baloun en Archie Lee Hooker on stage. Robbert Fossen & the Electric Men brengen een eerbetoon aan de Father of the Blues Muddy Waters. Vanuit Hoogeveen komen The Trutones en The GuitarGuy & Mr. Harmaniac.
John Primer én de 'nieuwe Jimi Hendrix' on stage


Maak kennis met één van de hotste, jonge bands uit Chicago: Jamiah On Fire and The Red Machine. De band bestaat uit de neven Jamiah Rogers (21 jaar, zang en gitaar), Jalon (17 jaar, drums) en Kenyonte (15 jaar, bas) en speelt blues, blues-rock, soul en R&B.
De Tamboer-programmeurs zagen de jongens spelen op het Chicago Blues Festival in 2015 en waren zeer onderde indruk: "Zo jong en dan al zoveel talent, dat is bijna ongelofelijk. Deze jongens gaan hoge ogen gooien op ons festival. Meet the new Jimi!"


Levende Legende John Primer mag niet ontbreken op The Chicago Edition. Als één van de laatste traditionele Bluesartiesten met originele Mississippi-roots ontving hij al meerdere malen de "Lifetime Achievement Award". John speelde in de bands van Willie Dixon, Muddy Waters en Magic Slim & The Teardrops. Hij komt nu met zijn eigen begeleidingsband naar Hoogeveen.
Vanuit Ierland komt de jonge Bluesband Those Responsible over. Geïnspireerd door de grote rock- 'n-roll-ers en met veel ruimte voor improvisatie veranderen Declan, Jacob, Shane en Faolán ieder optreden in een unieke ervaring. Robbert Fossen & The Electric Men brengen een ode aan de Father of the Blues: Muddy Waters. Verwacht geen exacte kopie van Muddy-nummers, maar wel de sfeer en het karakter van zijn muziek en shows!
De Greyhound Blues Band is ook weer terug. Drie Drentse muzikanten: een fantastische ritmesectie, alleskunners op gitaar en een prachtige bluesstem! En ze nemen drie gasten mee. Leon Blue zou wel eens de beste bluespianist kunnen zijn waar je nog nooit van hebt gehoord. Daar komt in Hoogeveen verandering in!
Kat Baloun komt uit een muzikale familie en speelde zelf dan ook al op jonge leeftijd meerdere instrumenten: piano, viool en harmonica. Pas na haar tienerjaren pakte ze het harmonica spelen weer op.


Archie Lee Hooker leerde alles over de Blues van zijn oom en mentor, de grote John Lee Hooker. Inmiddels werkt Archie aan zijn zesde studioalbum, waarop hij zijn energieke Boogiemanstijl laat horen.
Hoogeveners The Trutones beschikken over een indrukwekkend repertoire met veelzijdige stijlen als western swing, blues, rhythm & blues, country en rock-'n- roll. Ze laten het Tamboercafé schudden op haar grondvesten.
De Hoogeveense Guitar Guy & Mr. Harmaniac halen het beste in elkaar naar boven op het podium. Ze spelen eigen bewerkingen van nummers van o.a. Robert Johnson, Muddy Waters, Leadbelly Slim Harpo en Big Bill Broonzy. Energiek, spectaculair, uniek en heel veel old school blues!


Deuren Open: 19:30 uur
Aanvang: 20:00 uur.
Kaarten à € 22,50 (vvk) , € 27,50 (kassa)
Kaarten zijn verkrijgbaar via www.detamboer.nl 
Telefonisch reservering: 0528-280180
Of aan de kassa van De Tamboer