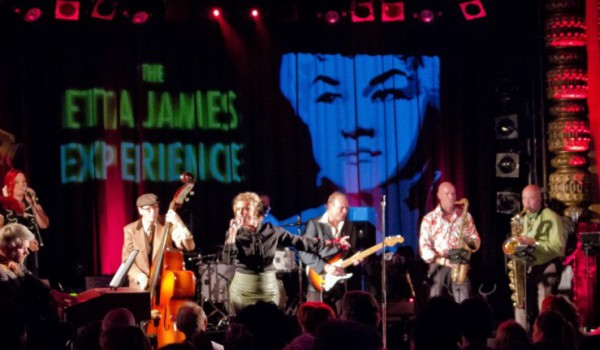 Vorig jaar ging het dak van het Pakhuis in het Westelijk Handelsterrein er bijna af toen 'Mississippi aan de Maas' (Robbert Fossen Band & Big Daddy Wilson) georganiseerd werd. Op 26 maart a.s. staat er opnieuw een bijzondere act geprogrammeerd in het Pakhuis die je eigenlijk niet mag missen…. The Etta James Experience komt voor het eerst naar Rotterdam en jullie kunnen er bij zijn.
In 2012 overleed Etta James, een fantastische zangeres, na een bewogen leven vol drugs en rock & roll. Haar geweldige stem, doordrenkt met emotie, liet niemand onberoerd. Nu is er The Etta James Experience………Deze elfkoppige band die een tribute brengt aan deze in 2012 overleden Amerikaanse 'grand lady of soul'. The Etta James Experience staat garant voor een spetterende, swingende show met soul, blues, funk, rock'n roll en jazz.The Etta James Experience was succesvol op grote evenementen als Breda Jazz, Blues in Wijk en Bevrijdingspop in Doetinchem, maar ook op bekende poppodia als de DRU in Ulft, de Metropool in Hengelo en op het internationale festival Blues in Hell, nabij Trondheim in Noorwegen.

In The Etta James Experience hebben elf ervaren muzikanten uit Oost-Nederland hun krachten gebundeld. Stralend middelpunt is de Arnhemse zangeres Floor Kraayvanger, Nederlands' eigen 'grand lady of soul, rock en rhythm & blues'.

Zangeres Floor en haar fantastische band zijn van plan om er ook op 26 maart in Rotterdam een prachtig mooie show van te maken. Swingend, groovend, feestend. Blues, soul, funk en rock'n roll. Natuurlijk afgewisseld met enkele mooie rustpuntjes, waarin Floor eens te meer haar klasse zal tonen.
Voorafgaand en na afloop van het optreden neemt DJ Franko jullie mee terug in de tijd en zorgt hij met muziek van Al Green, Aretha Franklin, Curtis Mayfield, the Platters, Nina Simone, Nat King Cole, Timi Yuro en al die andere sterren van weleer voor de juiste ambiance en een gezellige afterparty!
Een absolute top-act die nooit eerder in Rotterdam geweest is, een 11-koppige formatie met alles erop en eraan! Een aanrader……..
Zorg dus dat je er (weer) bij bent!! Het Pakhuis opent haar deuren om 20:00 uur.
Het Pakhuis
Van Vollenhovenstraat 15
3016 Rotterdam
Prijs toegangskaarten:
€ 12,50 (voorverkoop) of € 15,00 (deurverkoop)