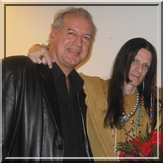 Lees hier de interviews die Gillespy (Giel) had met
ex-Mink DeVille bandleden voor: 
Willy DeVille International Fans
E: willydevillefanclub@gmail.com
T: http://twitter.com/devillefans
Exclusive interview with Shawn Murray – February 19, 2011
Shawn Murray is a freelance Drummer, singer/songwriter most known as a member of The Mink DeVille Band from 1984 until 2009. During this time Shawn has performed extensively with Willy DeVille over 30 European, Canadian, and American tours.


Exclusive interview with Steve Conte – January 9, 2011
Steve Conte is known from the New York Dolls, Crown Jewels, the Contes, the Crazy Truth and of course the Willy DeVille band. He played guitar for and with a lot of pro artists. But above all Steve Conte is who he is!
Exclusive interview with Joe Vasta jr. – Part I  –  Nov 29, 2010
Exclusive interview with Joe Vasta jr. – Part II – Nov 30, 2010
Joe Vasta jr is known from Mink DeVille, played Bass on the albums Coup De Grâce 1981 and Where Angels Fear To Tread 1983 and he can be seen on the Montreux 1982 DVD and a lot of YouTube movies on the net, like Pinkpop The Netherlands and Werchter Belgium 1982. Raised and living in New York he speaks to us about his time in Mink DeVille, his family and buddy Thommy Price, his equipment, the dental business, working with others, life in NYC and much more.


Paul James is a real musician's, musician – October 3, 2010
One of the most exciting and energetic Toronto-based Canadian musicians … past, present and future. Paul James is a real musician's, musician. He is constantly surrounded by the worlds stage as big time players such as Mink De Ville (Montreux, Pinkpop, Werchter 1982!), Bo Diddley, Bob Dylan, John Hammond, Spencer Davis, Lightnin' Hopkins, Jack Scott and Sunnyland Slim, to mention a few.
Devillefans ~ just your friends ~