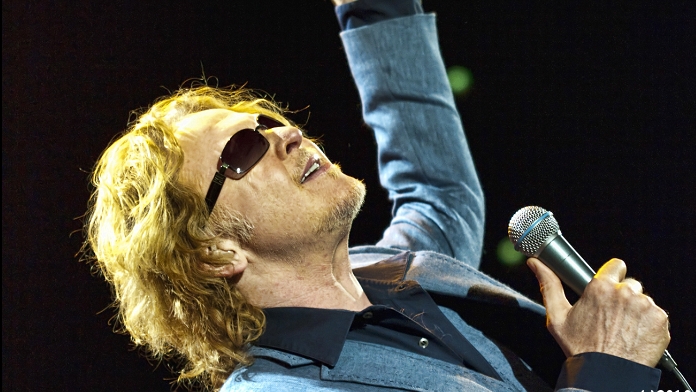 3 december 2010, Gelredome, Arnhem; tekst en foto's: Arjan Vermeer
We hadden geen toepasselijker begin kunnen bedenken voor het laatste concert van Simply Red in het Gelredome op 3 december jl.: Het doek valt daadwerkelijk omlaag bij het begin van het concert, terwijl Mick Hucknall staat te popelen om met "Your Mirror" te beginnen. Daarna zullen nog 19 hits volgen die Mick en zijn band de afgelopen 25 jaar hebben geproduceerd.
De Farewell Tour startte al in 2009. Mick Hucknall en zijn muzikanten trakteerden ons toen al op drie -in no time uitverkochte- concerten in de HMH en Westergasfabriek. En tijdens het laatste concert meldde Mick al dat ze dit jaar zouden terugkomen. En …. zo gezegd zo gedaan.
Het massaal toegestroomde publiek in het Gelredome komt maar langzaam op gang. En alhoewel de fans enthousiast reageren op funky nummers als "Thrill Me" en "Jericho", komt het meezingen pas echt los na de twee ballads "So Not Over You" en "For My Babies". We zetten dan ook massaal in bij "If You Don't Know me By Now". Oorspronkelijk gespeeld door Harold Melvin & The Blue Notes, maar eigenlijk beter passend bij Mick Hucknall's mooie soul-stem. Hits als "Stars", "Fake", "Come To My Aid", "The Right Thing", "Money is Too Tight To Mention", "Fairground" worden daarna professioneel en met overtuiging door Simply Red gebracht. De enthousiaste fans zingen en klappen hard mee.
Ondanks de strak geregisseerde show laat Mick voldoende ruimte voor de bandleden om te excelleren, met name de blazers Ian Kirkham en Kevin Robinson, maar ook de iets minder opvallende Kenji Suzuki (gitaar), Dave Clayton (keyboards) en de stevige rythmesectie van de gebroeders Lewinson. Ik mis wel de backing-vocals van Sarah Brown en Dee Johnson
Overall kunnen we spreken van weer een gezellige en swingende show. Toch was de sfeer niet die van vorig jaar, maar dat zal wel het verschil zijn tussen een warme zomeravond in de Westergasfabriek en een koude, besneeuwde decemberavond in Arnhem. Simply Red eindigt de avond met het nummer "Holding Back The Years". Dit nummer komt uit Mick's punktijd begin 80-er jaren met de The Frantic Elevators. Met "Let's end where it all started" zet Mick in met alleen zijn stem en akoestische gitaar, later gevolgd door de hele band. Een indrukwekkend einde van een mooie carriere. Maar tegelijkertijd het begin van nieuwe avonturen?
We zijn benieuwd, niet alleen door de uitstapjes van Hucknall naar de blueszanger Bobby Bland, "A Tribute to Bobby" in 2008 of de aanstaande tour met de Faces als vervanger van Rod Stewart!.
Line-up:
Mick Hucknall – lead vocals/acoustic guitar
Ian Kirkham- keyboards/saxophone
Kenji Suzuki – Guitar
Dave Clayton – Keyboards
Pete Lewinson – Drums
Steve Lewinson – Bass
Kevin Robinson – Trumpet/Flute
Setlist:
01. Your Mirror
02. Thrill Me
03. Oh What a Girl
04. Jericho
05. Night Nurse
06. Never Never Love
07. So Not Over You
08. Babies
09. If You Don't Know Me By Now
10. Stars
11. It's Only Love
12. Sunrise
13. Come To My Aid
14. Fake
15. Right Thing
16. Money's too tight to mention
17. Fairground
18. Ain't That A Lot Of Love
19. Something Got Me Started.
20. Holding Back The Years (acoustic start)