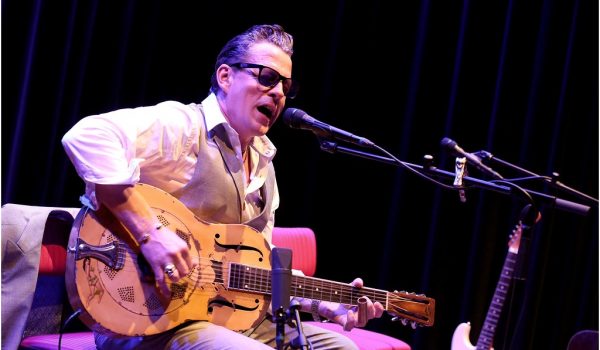 IAN SIEGAL – Amerikaanse Blues door een Engelsman, zo kondigt Podium Fluor van Amersfoort het enige solo optreden van de Brit in Nederland op 26 Augustus a.s. aan.
Met het kersverse nieuwe album 'Stone By Stone' op zak zal Ian Siegal na de optredens met o.a. Birdmens, de Ian Siegal Band en Ian Siegal presents B.L.U.E.S. de zomer inluiden met een solo optreden.

In meer dan een kwart eeuw touren van zijn geboortegrond Groot Brittannië tot aan Brazilië, de Caraïben en île de la Réunion is de missie van meervoudig awardwinnaar Ian Siegal nauwelijks veranderd. Liedjes die echt zijn, shows die resoneren, zang rauw geserveerd. Tegenwoordig wordt hij door velen beschouwd als de meest meeslepende Britse bluesartiest sinds de grote namen van de jaren zestig.
Siegal staat bekend als een bluesman, maar het is slechts één tint in het palet van een artiest die tussen continenten, tijdperken en verwachtingen glijdt. Ze zeggen dat je de blues niet kunt zingen totdat je het leven hebt geleefd en wanneer Ian Siegal naar de microfoon stapt, hoor je de slingers en pijlen. Hij neemt de leiding over het podium op een manier die maar weinig hedendaagse artiesten kunnen evenaren. Zweet, passie, humor, opruiende slide-gitaar en een met ziel doordrenkte stem die groot genoeg is om bomen te vellen!

Onderstaand een voorproefje van het nieuwe album (lees HIER de recensie) én onderdeel van het repertoire wat Siegal ongetwijfeld ten gehore zal brengen tijdens het solo optreden in Fluor – Amersfoort:
'Hand in Hand' Feat. Shemekia Copeland, wat ook is verschenen op Siegal's nieuwe album STONE BY STONE uitgebracht 29 April 2022 jl. op GROW VISION RECORDS. Bestel het album via IanSiegal.com of via je eigen 'pusherman van goede muziek' of andere bekende aanbieders.

Wanneer?
Vrijdag 26 Augustus 2022
Waar?
Podium FLUOR
Oliemolenhof 22
3812 PB Amersfoort
Zaal open: 19:00 uur
Aanvang: 20:00 uur
Locatie: Café
Prijs?
€ 16.50 (incl. € 1.50 service kosten) in de vvk. Klik HIER 
(Hard copy tickets zijn te koop bij Velvet Music van Amersfoort)
Voor routeplanner: Op de Oliemolenhof geldt een shared space-principe; het plein is toegankelijk voor zowel voetgangers, fietsers en – uitsluitend – elektrisch gemotoriseerde voertuigen waarvoor slechts kort parkeren is toegestaan.
Betaald parkeren is mogelijk in de Eempleingarage