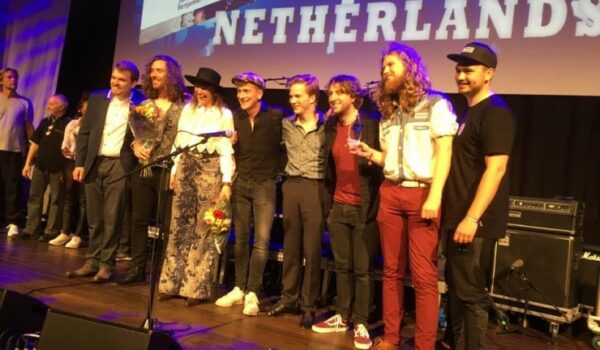 De jonge Nederlandse band Harlem Lake is winnaar geworden van de European Blues Challenge 2022. De European Blues Challenge (EBC) werd dit jaar gedurende het Pinksterweekend voor de tiende keer gehouden en vond plaats in het Zweedse Malmö.
Photo credits: Arie Verheul
Met deze overwinning heeft Nederland voor de tweede keer de EBC gewonnen, nadat The Ragtime Rumours dat eerder in 2018 deze overwinning op hun palmares mochten bijschrijven.
Verdeeld over twee dagen namen 23 bands uit evenzoveel landen deel aan de European Blues Challenge. Voor een zeskoppige jury mochten de acts in twintig minuten laten zien en horen waarom zij op internationale podia thuishoren.
Harlem Lake won in 2019 de finale van de door de Dutch Blues Foundation georganiseerde Dutch Blues Challenge en plaatste zich daarmee voor de International Blues Challenge in Memphis (januari 2020) en de European Blues Challenge. De EBC stond gepland om in 2020 in Nederland plaats te vinden, maar werd door de Corona-crisis geannuleerd.
Harlem Lake heeft de tussenliggende twee jaar niet stilgezeten; er is geschaafd, gestreamd, in kleine setting opgetreden, inspiratie opgedaan en nieuwe nummers geschreven. De band heeft in Malmö laten zien dat ze gegroeid zijn en heeft daarmee het publiek én de jury weten te raken.
Bekijk hun optreden op de EBC in Malmö HIER.
De Dutch Blues Foundation wil talentvolle muzikanten een podium bieden, zorgdragen voor erkenning van bluesmuzikanten en wil een bijdrage leveren aan de bekendheid van de blues in Nederland. Deelname aan de Challenge in de US en in Europa geeft bluesmuzikanten een extra duwtje in de rug naar meer bekendheid en richting de grotere (inter)nationale podia.
Op 2 oktober 2022 vindt de Dutch Blues Challenge plaats in Hotel de Rustende Jager te Nieuw-Vennep. Bands kunnen zich aanmelden en kans maken op een plek bij de EBC in 2023 in Polen.
In 2024 vindt de European Blues Challenge plaats in Nederland.
Namens het The Blues Alone?-team van harte gefeliciteerd Harlem Lake!

Wil jij ook een bijdrage leveren aan deze stichting? Wordt donateur, klik op onderstaande button!