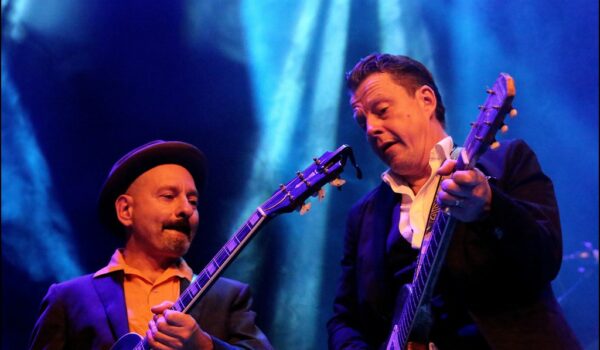 Ian Siegal presenteert op donderdag 21 Oktober a.s. zijn project B.L.U.E.S.; een blues avond met indrukwekkende gitaarriffs en unieke bandbezetting, dit zegt Ian Siegal zélf over dit project: "I am extremely excited to play in this project with my friends and we plan to do our best to honour the music we love so much. This is likely to be the one and only night this band ever plays, but by all the Gods it'll be a damn good one! Maybe we will reform for a 'comeback' concert next year. WHO KNOWS?!"
Ian Siegal is al jaren een gevestigde naam binnen de nationale en internationale blues scene. Met zijn muziek heeft hij al zeker 40 landen veroverd, negen Britse Blues awards gewonnen én drie Europese blues awards in de wacht gesleept. Ook speelt hij al een aantal jaar samen met de Nederlandse band The Rhythm Chiefs. Siegal staat bekend om zijn fijne mix van verschillende stijlen, van blues en Americana tot roots. Zelfs voor een beetje soul draait hij zijn hand niet om. De gitarist laat zijn gitaar 'janken' en als er geen einde lijkt te komen aan de stroom van indrukwekkende gitaarriffs, kiest hij voor een moment van ingetogenheid. Voor dit unieke concert in Dordrecht stelde Ian Siegal een band samen met als doel het spelen van de beste en puurste blues. De band bestaat naast Siegal uit Mischa den Haring, deze Nederlandse rootsgitarist vergaarde bekendheid als frontman van het Amsterdamse trio T-99 en is inmiddels een gevestigde naam binnen het internationale bluescircuit. Ook onderdeel van de line-up: harmonicaspeler Big Pete (Pieter van der Pluijm) én muzikale broers Dusty en Darryl Ciggaar, onder andere bekend van Dry Riverbed Trio. De hechte vrienden treden op onder de naam B.L.U.E.S. Waar dit voor staat? Dàt zie je in de show!
Bandbezetting:
Ian Siegal – gitaar en zang
Big Pete – harmonica en zang
Mischa Den Haring – gitaar en zang
Dusty Ciggaar – basgitaar en zang
Darryl Ciggaar – drums en zang
Voor dit evenement geldt een negatieve testuitslag, vaccinatiebewijs of herstelbewijs. Voorkom teleurstellingen en maak indien tijdig een afspraak via www.testenvoortoegang.nl. Download de CoronaCheck-app voor de QR-code. Deze dient te worden getoond bij de entree in combinatie met een geldig identiteitsbewijs .
Wanneer: Donderdag 21 Oktober 2021
Waar: Bibelot
Adres: Noordendijk 148, 3311 RR Dordrecht
Aanvang: 20:30 uur
Deur Open: 19:30 uur
Prijs: reeds uitverkocht