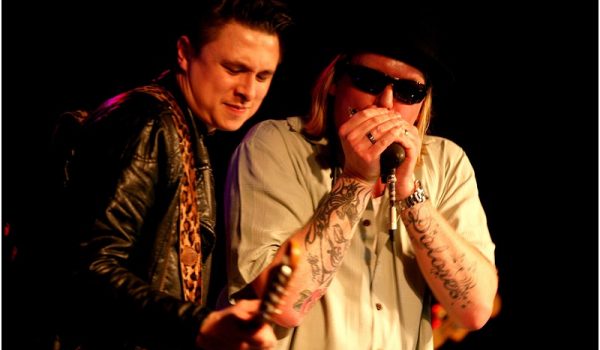 Blues Promotion Dongen presenteert Zondag 08 Maart a.s. The 'Original' Strikes (NL). Support act All About Willie.
Pieter van der Pluijm a.k.a. Big Pete is geen onbekende mondharmonicaspeler meer in de lage landen.
Big Pete was zo'n 25 jaar geleden voornamelijk actief als gitarist in diverse rockbands, maar toen hij in aanraking kwam met de muziek van Lester Butler's The Red Devils ging hij vanaf dat moment vol voor de mondharmonica oftewel de 'Mississippi Saxophone'. Hij bleek een begenadigd talent te zijn op dit instrument zoveel zelfs dat hij na de tragische dood van Lester Butler verschillende optredens deed met The Red Devils in de Verenigde Staten en Europa en ook een nieuw album met hen uitbracht. Ook kreeg Big Pete een contract bij Delta Groove Records. De eerste cd die hij daar opnam Short Cuts bleek een schot in de roos mede ook door dat de 'grote jongens' van dit label mee participeerden kreeg deze schijf een groot bereik. In 2018 was Big Pete Bluesband zelfs support act voor een Europese toer van Z.Z.Top!
Maar vóór al deze wapenfeiten waren bereikt was zijn eerste bluesband The Strikes in 2004, deze band bereikte in hun korte bestaan een enorme schare liefhebbers en namen de nog steeds legendarische cd op Bathroom Acoustics. Dit zette het traditionele blueswereldje behoorlijk op zijn kop.

Na een reünie optreden in 2018 besloten de jongens om wat regelmatiger samen te gaan optreden. Door dat de andere leden van de band ook niet stil hebben gezeten is het door hun drukke bestaan ook niet altijd mogelijk. Bassist Roelof Klijn heeft als begeleider van diverse bluesartiesten o.a. Malford Milligan, en nu ook in de theater tour The Sound Of Blues & Americana van Johan Derksen en enkele andere formaties genoeg werk voorhanden. Gitarist Sjors Nederlof is al vanaf zijn zestiende actief bij Coup De Grace plus verschillende nationale en internationale acts o.a. Anouk, Jan Akkerman, Matt Schofield en is winnaar van The Dutch Blues Gitarist Award 2011 en is muziekdocent op de gitaaracademie in Rotterdam waar hij zijn kennis nu overbrengt op beginnende en gevorderde leerlingen. Dan is er ook nog de onuitputtelijke drummer/swinger Jody van Ooijen; het is moeilijker om te zeggen met wie hij niet heeft meegespeeld. Hij is met recht 'The King Of The Shuffle'.
Allemaal volbloed muzikanten, alles in perfecte harmonie waarin Big Pete alle ruimte krijgt voor zijn harmonicasolo's. Klijn en van Ooijen geven hem de juiste lading in deze hardcore blues. Gemeen en smerig met een flinke portie rock'n roll…..dàt is de sound van The Strikes!

Wanneer? Zondag 8 maart a.s.
Waar? Café-Zaal De Gouden Leeuw, St.Josephstraat 107, Dongen
Hoe laat? Zaal open 16:00 uur
Showtime? Aanvang 16:30 uur
Ticket prijs? € 15,00