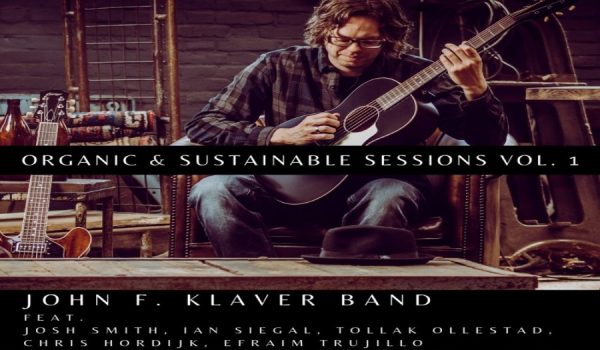 Album: Organic & Sustainable Sessions Volume 1
Artist: John F. Klaver
Record Label: Eigen Beheer
Release Date: 29/11/2019
Photo credits: José Gallois
Recensie: Ton Kok
John F. Klaver heeft zich na zijn dienstverband bij Phil Bee's Freedom weer volledig op zijn eigen carrière gestort met als resultaat zijn zevende album, genaamd 'Organic & Sustainable Sessions Volume 1'. Deze titel geeft al aan dat dat ons in ieder geval nog zeker een Volume 2 te wachten staat.

De vaste begeleiders zijn op dit album Pascal Lanslots (Hammond en Wurlitzer), Iris Sigtermans (bas) en Robert-Jan van Schoonacker, waarbij ik toch wel even wil opmerken dat mevrouw Sigtermans in Nederland toch wel tot de onderschatte bassisten behoort. Verder heeft John een aantal prima gasten uitgenodigd.
We vinden op deze CD acht uiteenlopen nummers met rock, jazz, funk en blues. Acht nummers en dit keer geen enkele van de hand van John zelf. "Cool Eddie" is een prima jazz rock fusion song, geschreven door Bill Evans. Dit nummer zit uitstekend in elkaar en het prima samenspel tussen sax en gitaar zorgen voor een klein meesterwerkje.

De CD begint met "Get What You Deserve" met een pompende bas en heerlijk scheurend Hammond-werk Het nummer wordt gezongen door Chris Hordijk, ooit tweede in The Voice Of Holland, tegenwoordig de frontman van het nieuwe bluescollectief Box Of Kings Band. Een prima opener met deze Trucks/Bramhall II/Mattison compositie. In "The Prince" van Larry Carlton krijgen we wat hogeschool gitaarwerk van John en Josh Smith te horen.
Ian Siegal duikt op om de vocalen op "Little By Little" voor zijn rekening te nemen en ook dit is weer een pareltje.
John F. Klaver heeft weer een mooi gevarieerd album afgeleverd met gastmuzikanten uit uiteenlopende muzikale disciplines met zeer gevarieerd materiaal. Tóch is het een toegankelijk album geworden voor muzikale fijnproevers!

Tracklist:
Get What You Deserve
Just Kissed My Baby
Little By Little (cover Junior Wells)
Cool Eddie
Never Make Your Move Too Soon
The Prince (cover Larry Carlton)
Move On Up (cover Curtis Mayfield)
Joey's Groove