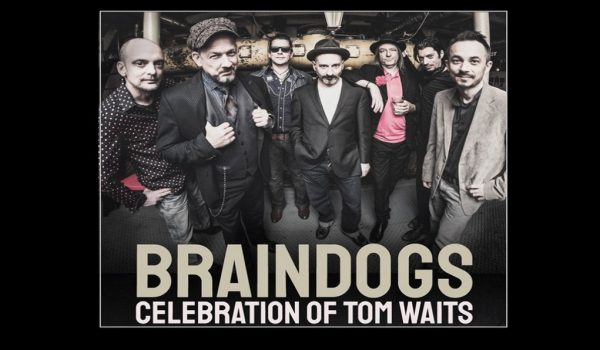 In samenwerking met de Q-Factory mag The Blues Alone? 2  x 2 gratis tickets weggeven!
Wil je kans maken op deze gratis toegangskaarten voor het optreden van Braindogs (feat. Mischa Den Haring, Ian Siegal & Ripoff Raskolnikov) op vrijdag 06 December 2019 a.s., doe dan het volgende:
# stuur een email naar info@thebluesalone.nl
# doe dit o.v.v. "ticketactie BRAINDOGS"
# zet in de mail: je naam, woonplaats, e-mailadres en telefoonnummer
# DAT IS ALLES!
Inzenden vóór donderdag 05-12-2019 middernacht.
Alleen de winnaar krijgt via email bericht.
Medewerkers van TBA? en Q-factory zijn van deelname uitgesloten.
Succes!!!
Voor het eerst staat de band buiten Hongarije op het podium; 2 exclusieve optredens waarvan 1 in de grote zaal van de Q-Factory en de tweede in Londen!!!!

Q-Factory presenteert een dag voor de verjaardag van de excentrieke zanger, componist, schrijver en acteur een waardig eerbetoon aan zijn muziek met een optreden van The Braindogs. Deze gelegenheidsband bestaat uit blueszanger Ian Siegal, Ripoff Raskolnikov, leden van de bekende Hongaarse band Quimby en onze eigen Mischa den Haring van T-99. Jaarlijks brengen zij een Tom Waits-tribute op het tot poppodium omgebouwde schip A-38 in Budapest. Hier komen Tom Waits-fans uit heel Europa op af.

Tom Waits begon in de vroege jaren zeventig als kroegzanger met een voorliefde voor beatdichters en West Coast jazz. Aan het einde van de jaren tachtig had Waits zich getransformeerd tot een even briljante als avontuurlijke muzikant wiens stijl het midden hield tussen Howlin' Wolf, Kurt Weill en Captain Beefheart. 

Het theatrale podiumdier dook ook met succes op in enkele speelfilms. Daarnaast werkte hij samen met de koning van het avant-garde theater, Robert Wilson. Hoewel Waits wordt beschouwd als een echte cultartiest werden zijn nummers door de meest uiteenlopende artiesten gezongen: van Rod Stewart, Bruce Springsteen, The Eagles en zelfs The Ramones.