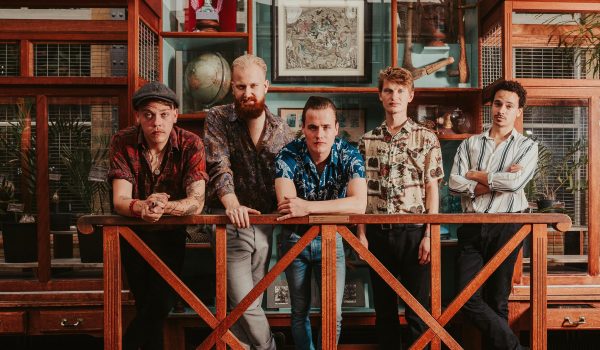 Het is zover! The Gumbo Kings vieren dat ze officieel een band vormen met een EP en dat willen ze met ons delen.
De Gumbo Kings zijn een Nederlandse supergroep die de groove van New Orleans Funk combineert met de korreligheid van Delta Blues en de melodieën van Memphis Soul.
De vijf Gumbo Kings zijn jong maar hun liefde voor muziek is zeer volwassen; de band bestaat uit frontman/blues-harpist/zanger Boy Vielvoye (Sugar Boy & The Sinners), gitarist/zanger Marc Janssen, bassist Jonne Vennemans, drummer Yordi Petit en Thomas Hanenberg is heer en meester op de toetsen.
Deze band is hun liefdeskind, omdat ze hun liefde voor al die geweldige 'Southern Vibes' willen doorgeven aan nieuwe generaties festivalbezoekers en old school-liefhebbers. Dus check out wat deze kerels voor ons hebben opgenomen!

The Gumbo Kings nemen je op woensdag 21 november mee op een avondje stappen in de achterbuurten van New Orleans. Denk dampende Soul en opzwepende Rhythm 'n Blues. Aanleiding voor het feestje is de presentatie van de allereerste EP, opgenomen in de Electric Monkey Studio in Amsterdam met producer Paul Willemsen (Beans & Fatback, Michelle David & the Gospel Sessions).

De vijf jonge maar ervaren Gumbo Kings reisden met eerdere bands de hele wereld over, van de Azoren tot Memphis, USA. Nu hebben ze de krachten gebundeld om hun liefde voor Soul, Funk en Blues naar het grote publiek te brengen.
In korte tijd bouwde de band al een geduchte live-reputatie op, met onder andere shows op het hoofdpodium van Haarlem Jazz en de Tolhuistuin. De release van de EP in de Sugarfactory in Amsterdam beloofd dan een stevig avondje uit te worden dat je niet wilt missen.

Voor tickets @ € 9,00 kun je terecht op www.sugarfactory.nl en voor alle achtergronden over de Gumbo Kings op de Facebook pagina van The Gumbo Kings
Locatie: Sugarfactory
Lijnbaansgracht 238
1017 PH Amsterdam
Tijd: 19:30 uur – 22:30 uur