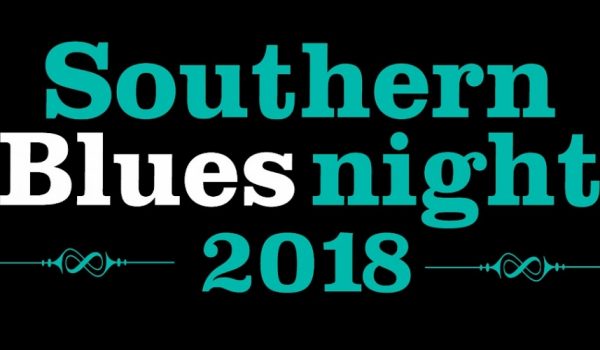 Zaterdag 17 maart staat Parkstad Limburg Theaters in het teken van de 22ste editie van de Southern Bluesnight. Het grootste indoor bluesfestival van het zuiden presenteert een line-up waarin traditie en vernieuwing hand in hand gaan. Met internationale topacts als SaRon Crenshaw, Chris Cain en Guy Davis naast klinkende namen uit eigen land als Barrelhouse en uit België de winnaars van de prestigieuze BRUL contest, Bourbon Street. SBN2018 presenteert het beste van de blues in elf acts op drie podia en twee live buskers in de wandelgangen van Theater Heerlen.
Photocredits: promoshots, Johan Sonneveld en José Gallois
Line-up
SaRon Crenshaw & Blind B' and the Visionairs (US/NL)

Sinds zijn debuut in Nederland in 2016 is de Amerikaanse bluesman SaRon Crenshaw uitermate snel en verdiend uitgegroeid tot een topact. In Heerlen staat de bluestrein van Blind B' and the Visionairs garant voor een gedegen show en met SaRon in de spotlights voor een gegarandeerd hoogtepunt.
Chris Cain & Luca Giordano Band (US/IT)

Met Chris Cain komt een levende legende naar de Southern Bluesnight. Al 30 jaar staat deze sublieme Amerikaanse zanger/gitarist te boek als 'een brok bluesdynamiet'.
Guy Davis & Paul de Laat (US/B)

In de categorie singer-songwriter en meer traditionele, akoestische deltablues staat Guy Davis als grote naam op de Southern Bluesnight. Naast de vele Blues Awards die hij op zak heeft, bewijst zijn nominatie voor de Grammy Awards 2018 dat Guy momenteel dé internationale ambassadeur van de authentieke countryblues is.
Tweed ft. Gervis Myles (US)

De stijl van de Amerikaanse blues-, soul- en funkband Tweed – ook bekend als Tweed Funk – is wel eens getypeerd als "a powerhouse in the tradition of Mitch Ryder & The Detroit Wheels, laced with the stage presence of Luther Allison." Onlangs werd de band uit Milwaukee geconfronteerd met het plotselinge overlijden van hun populaire frontman Smokey Holman. De band komt daarom als The Smokey Holman Memorial Tour met een gepaste ode aan Smokey naar Heerlen.
Barrelhouse (NL)

Barrelhouse is de top van de Nederblues en één van de meest gewaardeerde liveacts van ons land. De Haarlemse band rond frontvrouw Tineke Schoenaker ontstond in 1974 uit de Oscar Benton Bluesband. Nu, ruim 40 jaar, duizenden optredens en opnames met bluesgiganten als Albert Collins, Altai-Hangai, Gary Lucas (Captain Beefheart) en The Five Blind Boys of Mississippi verder, speelt Barrelhouse nog altijd in de originele bezetting.
Errol Linton Band (GB)

'Harmonica wizard' en singer-songwriter Errol Linton speelt een unieke mix van blues met vleugjes reggae. Liefst driemaal werd de Jamaicaan uit Brixton gekozen tot 'British bluesharmonicaplayer of the year'. Linton is dan ook uiterst populair bij BBC-presentatoren als John Peel, Charlie Gillett, Paul Jones en Andy Kershaw. Binnen de Londense underground is hij een held.
Guy Verlinde & The Mighty Gators (B)

2018 is het jaar van Guy Verlinde & the Mighty Gators. De Gentenaar, begenadigd muzikant en allround entertainer viert zijn 20-jarig jubileum 'on the road' als muzikant en het 10-jarig jubileum van zijn band, The Mighty Gators, met de release van het album X, met oude klassiekers en nieuwe nummers. Vanzelfsprekend komt dé bluestrots van België met deze driedubbele Anniversary Tour ook naar Heerlen.
Ernest van Aaken Band (NL)

Ernest van Aaken is een selfmade gitaarman die de traditionele countryblues en ragtime vertolkt als geen ander. Al op 12-jarige leeftijd leerde hij zichzelf gitaar spelen. Meteen ook bouwde hij zijn eigen gitaren waarmee hij de oorspronkelijk sferen van de deltablues treffend weet te vertolken.
Bourbon Street (B)

Bourbon Street is de glorieuze winnaar van de recente BRUL-contest en verdient daarmee een plek in de jukejoint. Ze deelden het podium al met o.a. Ian Siegal, Ana Popovic en Memo Gonzalez en knalden op festivals als Hookrock, Het Poorthuis in Peer, de Muziekodroom in Hasselt, Venblues en Heerlen Jazzt. Nu aan de mannen de eer om de 22ste SBN te openen, als kroon op hun stevige livereputatie.
De live buskers in de gangen van Theater Heerlen zijn in handen van Stompin' Grounds en Cajun Moon.
Theater Heerlen
Burgemeester van Grunsvenplein 145
6411 AS Heerlen
Kaarten à € 35,00
Aanvang 19:00 uur
Kijk daarom snel op www.southernbluesnight.nl voor meer informatie en voor kaartverkoop op www.parkstadlimburgtheaters.nl 
Je kunt ook nog steeds telefonisch kaarten bestellen bij de kassa van het Parkstad Limburg Theater in Heerlen via nummer 045 – 571 66 07.