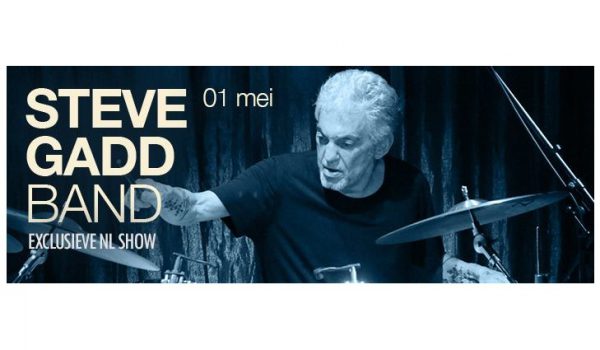 Grammy Award winnaar Steve Gadd komt naar Hengelo en wel op maandag 1 Mei a.s. Steve Gadd is één van de meest invloedrijke drummers van zijn generatie. Grijp deze unieke kans om deze meesterdrummer aan het werk te zien.
Beste drummer ter wereld?
Hij zal het zelf niet zeggen want Steve Gadd is een bescheiden mens. Maar zijn collega-muzikanten plukken struisvogels kaal om hem maar voldoende veren in het achterste te kunnen steken. Dit is een drummer van uitzonderlijk hoog niveau. Een alleskunner bovendien, want Gadd drukt zijn stempel op zowel jazz- als popklassiekers. Het kenmerkende roffeltje onder '50 ways To Leave Your Lover'?, ja u raadt het al ook Steve Gadd.
Gedanst op 'The Hustle' van Van McCoy? Dan heb je gedanst op de beat van Steve Gadd. 'Chuck E.'s In Love' van Rickie Lee Jones? Steve is ook in deze song de drummer. Maar tegelijkertijd speelt hij dus ook mee op een keur aan jazz/fusion platen. Van Steely Dan's 'Aya' tot 'Night Flight' van The Brecker Brothers; Gadd is er op vertegenwoordigd. Geen drummer is zo constant als Steve Gadd. Hij danst als het ware achter het drummstel en speelt op meer dan 750 platen mee. Eric Clapton, James Taylor, Al di Meola, Grover Washington, Dionne Warwick, Bee Gees…..
De kans is aanzienlijk dat je zonder het te weten de beste man in je platenkast hebt staan! Gadd staat op eenzame hoogte.

Zijn collega's bewieroken hem met grote regelmaat op in de Metroppol van Hengelo kan je de man in zijn natuurlijke habitat zien; achter de drumms!
Maandag 1 Mei a.s. komt hij met zijn band laten horen hoe eenzame hoogte klinkt!
Tickets vvk: € 29,00 (on-line verkoop klik hier)
Tickets kassa: € 32,00
Tickets CJP: € 27,00
Poppodium De Metropool
Industrieplein 10
7553 LL Hengelo
Locatie: Jupiler Stage
Zaal open: 19:00 uur
Aanvang: 20:15 uur
Muziekcafé open: 17:00 uur