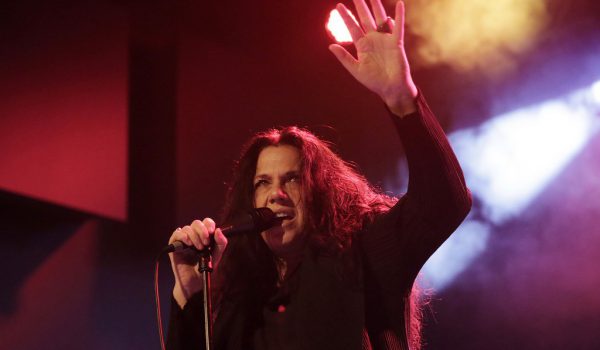 Sari Schorr & The Engine Room speelden op vrijdag 27 januari j.l. in Poppodium Iduna – Drachten. Tekst en foto's van Gerrie van Barneveld.
Op een winterse avond rijd ik naar Drachten voor een concert van, de uit New York afkomstige, Sari Schorr. De avond wordt geopend door Uncle Jimmy; een jonge rockband met twee jonge dames op bas en Hammond. De sound van Uncle Jimmy is beïnvloed door onder andere Led Zeppelin en Deep Purple. Het rockt er lekker op los op soms wat lang uitgesponnen nummers. De band heeft de energie, die doet denken aan die van DeWolff.

Na een korte ombouw is het de beurt aan Sari Schorr & The Engine Room. Het zijn niet de eerste de besten die Schorr vergezellen op haar reis door Europa. De Engine Room wordt bevolkt door gitarist, Innes Sibun (Robert Plant), drummer Kevin O'Rourke, bassist Kevin Jefferies (Roger Taylor met Jeff Back, Mike Oldfield en Steve Harley) en toetsenman Anders Olinder (Glenn Hughes, PP Arnold en Peter Gabriel).

En alsof het nog niet genoeg is, werd Sari's debuutalbum A Force of Nature geproduceerd door niemand minder dan de iconische Mike Vernon. Vernon, die albums produceerde van Fleetwood Mac, David Bowie en Eric Clapton, om er maar een paar te noemen. "Wat kan er dan nog mis gaan?", zul je je afvragen. Oké, de wereld moet jou dan natuurlijk ook nog even ontdekken. En na Amerika is een Europese tournee een logische stap. Poppodium Iduna in Drachten weet Schorr en haar metgezellen in huis te halen. Helaas voor een wat mager publiek. Degenen die thuis gebleven zijn, hebben wat gemist.

Eigen werk en covers worden afgewisseld en uiteraard passeert veel materiaal van het debuutalbum. Het gaat meteen los met Money en Demolition Man, waarin Sari haar vocale kwaliteiten laat horen. Wat een stem heeft deze dame! Krachtig uithalend, grommend met een rafelrandje waardoor vergelijkingen met Beth Hart en Janis Joplin snel zijn gemaakt. Met af en toe een kort praatje tussen de nummers vertelt zij over de achtergronden van de songs.

Daarbij wordt president Trump niet vergeten. Tussen het bluesrockgeweld zijn een aantal rustige nummers gevoegd, zoals Where Did You Sleep Last Night (Leadbelly) en Letting Go. De blues wordt niet vergeten met een cover van Stormy Monday en The Stumble. Er volgt een in tempo opbouwend Black Betty (Leadbelly), Aunt Hazel over heroïneverslaving en Stop! In the Name of Love. Innes Sibun raast regelmatig als een tornado over het podium met geweldige solo's.

De rest van de band staat als een huis met ruimte voor Anders Olinder op toetsen. Het optreden wordt afgesloten met de jazzy toegift Ordinary Life. Sari zit hierbij op de rand van het podium en zingt over dankbaarheid.
Zo is het maar net. Wij van The Blues Alone? zijn dankbaar om te mogen schrijven over zo'n geweldige rockshow.