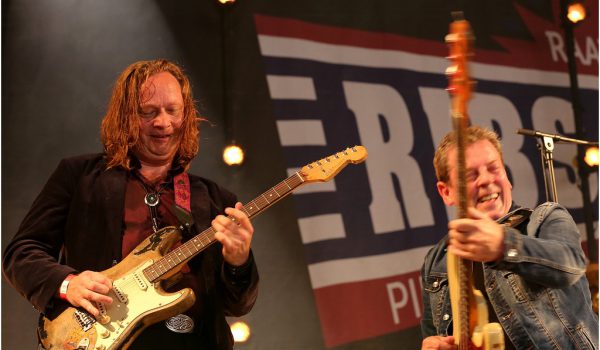 Band of Friends is inmiddels niet meer weg te denken uit de bluesrock scene. De band bestaat uit voormalige bandleden van Rory Gallagher: Gerry McAvoy (basgitaar) en Ted McKenna (drums) en de Nederlandse gitarist Marcel Scherpenzeel.
In 1995 overleed de Ierse bluesrickgitarist Rory Gallagher, op 47 jarige leeftijd, Rory was een legendarische muzikant. Met zijn band toerde hij de wereld over en was overal ongekend succesvol. In 2011 richtten oud bandleden Gerry McAvoy (basgitaar) en Ted McKenna (drums) Band of Friends op.

Bands of Friends is geen eerbetoon aan Rory Gallagher, maar een viering van het leven en de muziek van Rory, door muzikanten die erg dicht bij hem stonden. Marcel Scherpenzeel groeide op met de muziek van Rory en dat is zeker te horen. Gerry McAvoy belooft dan ook:  "This is the closest guitarist to Rory you will ever hear". Band of Friends, een must voor fans van Rory Gallagher en een enorme aanrader voor liefhebbers van blues en bluesrock.


Exclusief interview lezen met Rory Gallagher's bassist Gerry McAvoy (klik hier)?
Datum: 26 November
Deuren open: 19:30 uur
Aanvang: 20:00 uur
Grote Zaal W2
Tickets à € 17,- (klik hier)
Photocredits: Johan Sonneveld & José Gallois