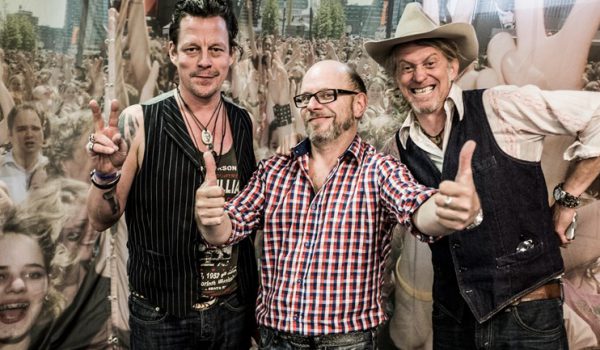 In Live uit Lloyd hoor je vanavond een bijzondere sessie van de Britse bluesman Ian Siegal (1971) en zijn Mississippi maatje Jimbo Mathus (1967). De twee roots 'n bluesmuzikanten toeren door Europa, maakten onlangs een mooi live album getiteld 'Wayward Sons' en spelen daarvan in Live uit Lloyd vijf songs.
Ian Siegal heeft voor de echte blues- en americanaliefhebber eigenlijk geen introductie nodig. Deze man heeft ondermeer al zeven British Blues Awards en een European Blues Award op zijn naam staan en wordt geprezen door muziekcritici en collega-muzikanten. Siegal laat zijn gitaar 'janken' en net als er geen einde lijkt te komen aan de stroom indrukwekkende gitaarriffs, kiest hij voor een moment van ingetogenheid. Zijn rauwe stem doet de rest. Ian Siegal woont sinds een jaar in Nederland en speelt ook met zijn Nederlandse band The Rhythm Chiefs veel gigs.
Ook Jimbo Mathus is al een gevestigde naam in de blueswereld. Deze singer-songwriter, multi-instrumentalist en Grammy-nominee uit Mississippi werd wereldwijd bekend met zijn band The Squirrel Nut Zippers, maar ging na het hoogtepunt behaald te hebben, als solo bluesartiest verder. Begin mei kwam een nieuw solo album uit maar vanavond hoor je Jimbo met zijn soulbrother Ian aan het werk.

Puur en authentieke blues, roots, folk, americana… als rauwe melk direct van de koe ! Laat je meevoeren naar de boorden van de Mississippi, hier in Rotterdam. Een puike akoestische sessie van twee helden.
Podcast klik hier
Website Live Uit Lloyd klik hier
Vanavond zijn de twee heren live te aanshouwen in de Harmonie van de Stadsgehoorzaal van Vlaardingen, aanvang 20:30 uur. Er zijn aan de kassa nog kaarten verkrijgbaar @ € 16,00.