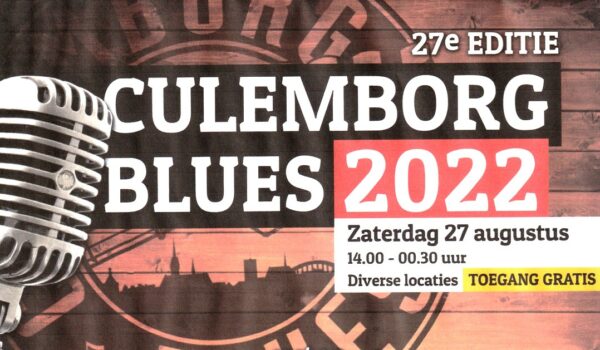 Nog een paar nachtjes slapen en 27e editie van het in 2019 tot Best European Blues Festival gekroonde Culemborg Blues is weer een feit!
Het bluesfestival dat ooit begonnen is als lokale kroegentocht, is inmiddels uitgegroeid tot een van de grotere openlucht bluesfestivals van Nederland. Culemborg Blues staat bij zowel bezoekers als artiesten bekend om haar gemoedelijke karakter maar ook de sfeer in de binnenstad van Culemborg wordt geroemd.
Op zaterdag 27 augustus kunnen de bezoekers genieten van diverse bands op zowel binnenpodia als op de drie buitenpodia die de Stichting Culemborg Blues op zal stellen. Grote namen als Laurence Jones (UK), Barrelhouse (NL) en Catfish (UK) staan natuurlijk op het grote podium geprogrammeerd. Maar ook biedt dit podium een thuis voor nationale bands zoals het zeer aan te bevelen Electric Hollers en Grollo. Het Varkenmarktpodium biedt ook een keur aan internationale en nationale artiesten. Zo zien we Troy Redfern (UK) Copperhead County(NL), The Matt Woosey Band (UK) en Lefthand Freddy (NL) op dit podium geprogrammeerd. Een mooi solo-act zoals Robbert Duijf is te bewonderen op 't binnenpodium van 't Kasteeltje.
Photocredits: Dirk van der Wilt en José Gallois
Barrelhouse
Hoofdpodium Zaterdag 27 augustus, 14.00 – 15.00 uur

Electric Hollers
Hoofdpodium Zaterdag 27 augustus 2022 15.30 – 16.30 uur

Catfish (UK)
Hoofdpodium Zaterdag 27 augustus, 17.00 – 18.00 uur
Mojo Hand
Poortwachterpodium Zaterdag 27 augustus, 19.30 – 21.30 uur

Wille & The Bandits (UK)
Hoofdpodium Zaterdag 27 augustus 2022, 20.00 – 21.00 uur.

Earl Jackson & the CC Jerome Allstars (UK/NL)
Varkensmarktpodium Zaterdag 27 augustus, 16.30 – 17.30 uur.

Matt Woosey Band (UK)
Varkensmarktpodium Zaterdag 27 augustus, 18.00 – 19.00 uur.

Robbert Duijf
Binnenpodium Het Kasteeltje 27 augustus 2022, 21.00 – 23.00 uur

Troy Redfern (UK)
Varkensmarkt Zaterdag 27 augustus 2022, 22.30 – 23.30 uur