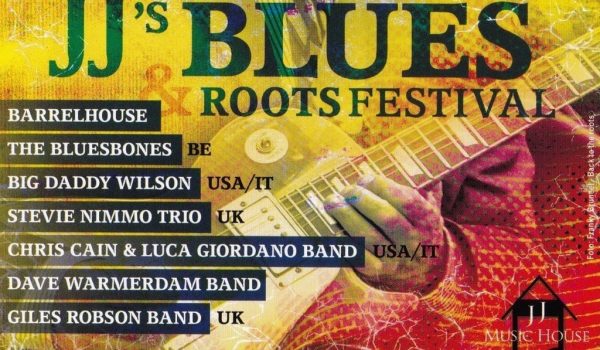 Zaterdag 14 september gaat de 2e editie van het JJ's Blues & Roots Festival van start op het festivalterrein van JJ Music House te Zoetermeer. Na de zeer succesvolle editie van vorig jaar – met dank aan o.a. Kat Riggins, Erwin Java Band, Brainbox en Jan Akkerman – was het voor de organisatie al snel duidelijk dat hier een vervolg op moest komen.
Nog slechts enkele dagen, dán is het zo ver …… de 2e editie van het JJ's BLUES & ROOTS Festival 2019. De programmering biedt voor elk wat wils én weersvooruitzichten zijn óók hoopvol.
De line-up toont een mooie diversiteit aan leeftijden én ervaring, nationaal en een keur aan internationale acts. De jonge talenten zijn vertegenwoordigd met de Dave Warmerdam Band (met een gemiddelde leeftijd van 20 jaar), de ervaring komt met de band Barrelhouse die dit jaar haar 45-jarige bestaan viert, internationale acts zoals de bluesrocker Stevie Nimmo uit de UK, gitaarvirtuoos Chris Cain uit de VS die samen met zijn Italiaanse begeleiders w.o. Luca Giordano ons allen versteld zal doen staan. Maar dat zijn slechts een paar namen uit het overvolle affiche van dit sympathieke JJ's Blues & Roots Festival 2019!
11:30 – 13:.00 uur mondharmonica workshop o.l.v. Hans de Vries
13:15 – 14:00 uur Dave Warmerdam Band

14:30 – 15:30 uur The BluesBones (BE)

16:00 – 17:00 uur Giles Robson Band (UK)

17:30 – 18:30 uur Barrelhouse

19:00 – 20:00 uur Big Daddy Wilson Band (USA/IT)

20:30 – 21:.45 uur Chris Cain Band (USA/IT)

22:15 – 23:30 uur Stevie Nimmo Trio (UK)

De presentatie op het hoofdpodium is in handen van Frits Krieg.
Er is tevens een binnen-podium, alwaar gedurende de pauzes zal worden opgetreden door respectievelijk: Big Bo – Duo Dave Warmerdam/Janne Timmer – Lost & Found.
Voor wie er nog geen genoeg van heeft kan van 23:30 – 00:.45 uur nog de afterparty met The Rude Move bijwonen.
Wanneer? – Zaterdag 14 september
Hoe laat? – Aanvang 13:15 uur
Wat kost het? – kaarten in de voorverkoop @ € 17,50 , zaterdag aan de kassa kosten ze  € 20,-
Klik HIER voor tickets en meer info. over het festival. Ook kan men zich via deze link zich aanmelden voor de mondharmonica-workshop!!!