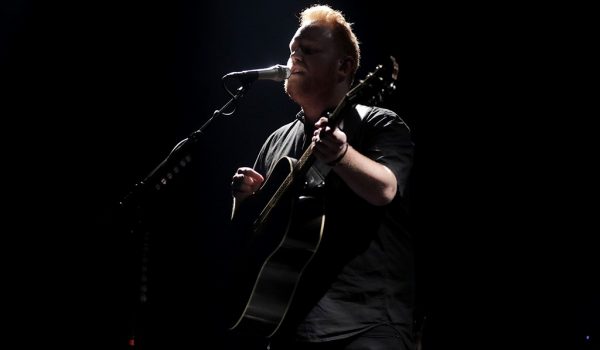 Gavin James speelde op Donderdag 31 Mei 2018 j.l. in De Oosterpoort van Groningen. Tekst en foto's Gerrie van Barneveld.
Gavin James heeft ongetwijfeld goede herinneringen aan Groningen. Een optreden tijdens Eurosonic 2015 was een belangrijke reden van zijn doorbraak in Nederland. Kort daarna volgden meerdere festivals zoals Pinkpop en Concert at Sea. Zijn huidige populariteit blijkt uit de bijna uitverkochte grote zaal van de Oosterpoort. Zijn carrière begon in de kroegen van Dublin. Door twee ep's kwam hij onder contract van een platenmaatschappij en sindsdien is het snel gegaan.

De Ierse band Saarloos mocht het voorprogramma verzorgen. Saarloos is een Iers duo en live aangevuld met een bassist. Hun populariteit is vooral groeiende door Spotify.

Het zijn voornamelijk popliedjes met mooie zang. Zij spelen onder andere de nieuwe single Changes. Opvallend is de cover Free Fallin' van Tom Petty en het meezingen van Gavin James op een nummer.

Na een korte pauze is het podium voor Gavin James en zijn band. De set begint met Bitter Pill, Coming Home en het nieuwe Start Again. Een hoogtepuntje in het begin is de ballad For You. Daarna volgt een akoestisch blokje met Hard to Do, Nervous met hoge stem gezongen en het nieuwe Put You Back Together.

In dit laatste genoemde nummer speelt Gavin ook mondharmonica, waardoor het een beetje folkachtig wordt. Er is ook afwisseling met uptempo nummers, zoals het nieuwe Faces, Tired en Remember Me. Bij dit laatste nummer speelt de band ook nog een stukje There She Goes van de La's.

De set wordt feestelijk afgesloten met Heart's On Fire en confetti. Gavin James komt nog terug voor toegiften. Met daarbij de hit The Book of Love met een aandachtig publiek, het uptempo Two Hearts en de meezinger Only Ticket Home.

Het publiek heeft daarvoor Gavin James allang in het hart gesloten. Intieme nummers worden afgewisseld met uptempo popnummers. Ook mooi is dat James een flink aantal nieuwe nummers speelt. De hoge stem van James komt het meest tot zijn recht in de rustige nummers.

De bandleden van Gavin James vallen niet echt op. Zij spelen vooral dienend en enthousiast. Kortom een prima en veelzijdig optreden van Gavin James en zijn band.