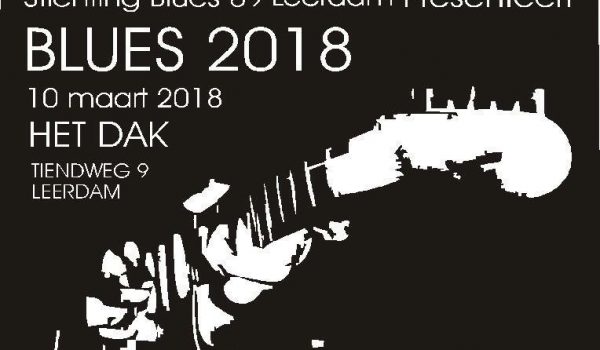 Bijna 30 jaar is het er al weer; Blues Leerdam….
Ooit begonnen als kleinschalige samenkomst van bluesliefhebbers is dit festival inmiddels uitgegroeid tot een volledig gevulde bluesavond. Ook dit jaar is de Blues in Leerdam er weer, met optredens van maar liefst 8 geweldig goede bands verdeeld over drie zalen. Dus ook dit jaar is er voor elke bluesliefhebber weer voldoende vertier.
Zet dus alvast die 10 maart 2018 in je agenda: Blues Leerdam.
Namens de organisatoren: Tot dan!
Line-up:
Sugar Queen & The Straight Blues Band
De Sugar Queen & the Straight Blues Band is een Belgisch-Nederlandse bluesband met de Amerikaanse Michele Denise als frontvrouw. De band brengt een breed palet aan emoties en blues stijlen, waarbij verloren liefdes, onrecht, successen en mislukkingen de revue passeren. Straight Blues wordt gebracht door drummer  Thierry Stiévenart (The Mighty Gators) bassist Rico Hagemeijer (The Choax, Jeremy & The Groovebreakers), gitarist Andy Aerts (The Bluesbones), Jean Raven (The Ampshakerz en Jumpin' Joe) en Wim Heirbout (The Gentlemen of Nerve, The Hidden Charms, Kingsize) maken de band compleet.
Detonics
A shot full of west coast blues.
Zodra Detonics speelt ontstaat de sfeer van prostitutie, illegale casino's, zelf gestookte whisky en Al Capone. De rauwe, ongepolijste stem van zanger Kars van Nus combineert bijzonder goed met de jazzy gitaarsounds van Jeremy Aussems en de gierende Hammond van Raimond de Nijs. De ritmesectie bestaat uit Mathijs Roks (drumms) en Rene Leijtens (up-right bass).
Rootbag
Richard van Bergen's Rootbag is een trio geïnspireerd door de hypnotiserende blues uit de Mississippi Delta, sexy grooves uit New Orleans en swampy R & B. Deze band mixt het allemaal samen tot een Rootbag-stijl gumbo-soep. Rauw, intens, soulvol en groovy.
Mike Wheeler w. special guest Kai Strauss
Mike Wheeler heeft een stem die doet denken aan wijlen Sam Cooke. Dit alles doet hij zo goed dat u vergeet hoe het origineel ook alweer klinkt. Mike Wheeler brengt pop, blues, jazz en rock. 
Mike Wheeler maakt deel uit van de Chicago blues scene, schrijft songs voor diverse Chicago performers zoals Big Ray & Cadillac Dave, Nellie Tiger Travis en Peaches Staten.
Als speciale gast neemt hij gitaargigant Kai Strauss mee naar Leerdam!
Big Bo
Bo Brocken speelt zijn blues met hart en ziel. Met zijn ongepolijste, soulvolle stem begeleidt hij zichzelf op akoestische en elektrische gitaar, steel dobro, "cigarbox" gitaar, snare-drumm, hi-hat en bassdrumm.
In deze "one-man-band" setting speelt hij naast eigen werk voornamelijk blues-klassiekers uit de jaren '30, '40 en '50 waarbij onversneden en vaak obscure Deltablues de boventoon voert. Emotionele akoestische Blues, vlotte Ragtime en doorleefde Deltablues, songs vol bezieling gebracht, worden doorspekt met virtuoos spel op slide-gitaar en rudimentair fingerpicking-werk.
Guy Verlinde & The Mighty Gators
Guy Verlinde & The Mighty Gators is de populairste bluesband in België en levert consequent energieke shows met echte 'footstompin' bluesmuziek. Deze band gaat door met de tradities van Amerikaanse bluesmasters uit de Mississippi Delta tot Chicago's Southside.
Blind B & The Visionairs
Blind B' & the Visionairs is een meeslepende Rhythm & Blues band, geïnitieerd door bassist Bart Kamp, alias Blind 'B'. Hij stelt 'The Visionairs' samen uit het beste wat de Nederlandse Blues te bieden heeft.
The Blue Clay
The Blue Clay speelt akoestische blues folk en Americana. Inmiddels bekend door de een flinke dosis energie. Naast eigen werk speelt de band oude blues en hill-billy nummers met invloeden uit bluegrass-, tex-mex- en zydeco-muziek.
CHICAGOZAAL
20:30 – 22:00  uur Guy Verlinde & The Mighty Gators
22:30 – 00:00  uur Sugar Queen
00:30 – 02:00  uur Mike Wheeler


ST. LOUIS ZAAL
20:15 – 21:45  uur Rootbag
22:15 – 23:45  uur Detonics
00:15 – 01:45  uur Blind B & The Visionairs
MEMPHIS ZAAL
20:45 – 21:30  uur Big Bo
21:45 – 22:30  uur Big Bo
22:45 – 23:30  uur The Blue Clay
23:45 – 00:30  uur The Blue Clay
Zalen openen om 19:15 uur
Aanvang 20:15 uur
Kaarten in vvk: € 25.00 (klik hier voor telefonische reservering)
Kaarten a/d zaal: € 27.50
Partycentrum Het Dak
Tiendweg 9a
4142 EG  Leerdam