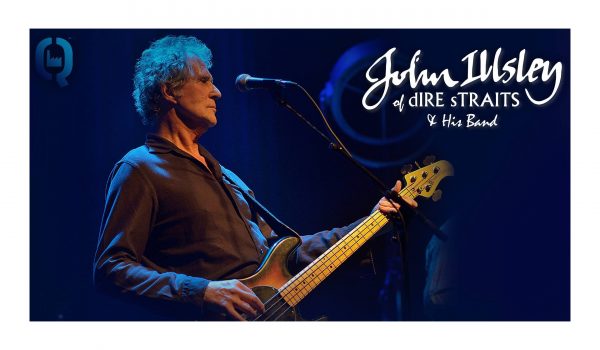 John Illsley of Dire Straits
John Illsley is bekend als mede-oprichter en bassist van de Britse rockband Dire Straits. Samen met front man Mark Knopfler verkochten zij meer dan 120 miljoen albums wereldwijd en op donderdag 8 Maart a.s. staat de man in de Q-Factory van Amsterdam.
Dire Straits is bekend geworden met nummers als 'Sultans of Swing', 'Private Investigations', 'Brothers in Arms' en 'Moneys for Nothing'. Daarnaast stond hun, in 1985 geschreven, album 'Brothers in Arms' in Nederland als langst genoteerde album aller tijden.


Sinds 1995 heeft Dire Straits geen platen meer geproduceerd en nauwelijks opgetreden, maar op 8 maart zal John Illsley een show geven in Q-Factory! Zijn band zal bestaan uit gitaristen Robbie McIntosh (The Pretenders / Paul McCartney /Tom Jones) en Paul Stacey (Oasis / The Black Crowes / High Flying Birds), toetsenist Steve Smith (Robert Plant / Pete Townsend / Steve Harley), drummer Stuart Ross (Mark Owen /Nik Kershaw / Chesney Hawkes) en zangeres Jess Greenfield (Rod Stewart / Take That).
Naast werk van het nieuwe John Illsley album 'Long Shadows' worden ook veel Dire Straits klassiekers als 'Sultans of Swing', 'Private Investigations', en 'Money for Nothing' gespeeld.
Het Grand Café is al vanaf 's morgens 10:00 uur open waar u voor aanvang van het optreden ook nog eens van een heerlijke maaltijd kan genieten!
Nà het optreden iets eten kan ook want het Grand Café van de Q-factory blijft tot 's avonds 01:00 uur geopend.

Q-Factory Amsterdam
Atlantisplein 1
1093 NE Amsterdam

JOHN ILLSLEY OF DIRE STRAITS
Tickets:
€ 23,50 *
Datum:
8 maart
Open:
20:00 uur
Aanvang:
20:30 uur
Klik hier voor on-line tickets.