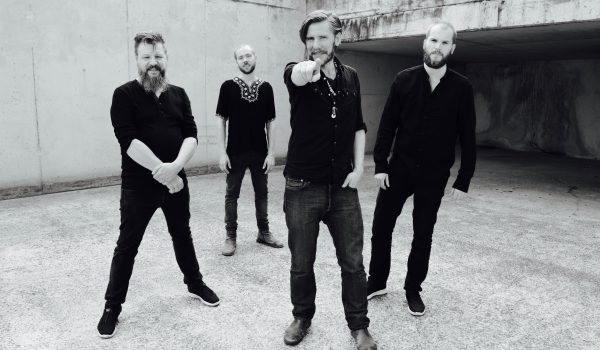 Album: GUY VERLINDE & THE MIGHTY GATORS – X
Artist: Guy Verlinde & the Mighty Gators
Record Label: R&S Music
Release Date: 27/01/2018
Recensie: Ton Kok
Guy Verlinde viert met zijn Mighty Gators het tienjarig bestaan en doet dat op zijn eigenzinnige wijze met een compitatie album met niet eerder uitgebrachte nummers!!! Toch wel uniek.
Een paar nummers zijn eerder op CD verschenen in een live uitvoering en er zijn een aantal niet eerder uitgebrachte songs. Tien nummers op dit album met de titel 'X' (Griekse 10).
Naast Guy (zang/gitaar) horen we de Mighty Gators: Stijn Bervoets (gitaar), Karl Zosel (bas) en Benoit Maddens (drums). Verder zijn van de partij oud Gator Toon Vlerinck (gitaar) en Richard van Bergen (gitaar), Patrick Cuyvers (toetsen) en Olivier Vander Bauwede (harmonica).

Opgenomen in september 2017 horen we acht Guy Verlinde originals en twee covers. "Bon Ton Rouler" (Clifton Cheniers) en "Ain't No Sunshine" "(Bill Withers) stonden op het debuutalbum van de band, maar krijgen hier prima studio-uitvoeringen. Vooral het gitaarspel op "Ain't No Sunshine" is om de vingers bij af te likken.
De overige nummers zijn originelen. Een paar als "Love Light Shine" en "Gator Bop" zijn ook eerder in live versie uitgebracht. De overige nummers variëren van bluesrock ("Pursuit Of Happiness") tot swamp blues ("Good Ain't Good Enough"), maar ook pop is de band niet vreemd. "No Time To Waste" is een lekker up-tempo cathy nummer, "Words Are Overrated" een langzame song.

De meeste muzikanten op het schijfje waren me wel bekend, maar harmonicaspeler Olivier
Vander Bauwede zorgt voor een positieve verrassing met prima spel op met name op "Gator Rock" en "Do That Boogie".

Enige nog niet vermelde nummer is "Shorten That Nothin'". Dit is een wat langzamer nummer. Tot op heden nog niet een van mijn favoriete nummers, maar wel weer een nummer met heerlijk gitaarspel.
Guy Verlinde blijft zich zelf opnieuw uitvinden, of het nu solo, met de Hound Dog Taylor Tributre Band of  met de Mighty Gators is. Vervelen gaat het voorlopig zeker nog niet.
Tracklist:
Bon Ton Roulet
Pursuit Of Happiness
Ain't No Sunshine
No Time To Waste
Words Are Overrated
Love Light Shine
Gator Bop
Good Ain't Good Enough
Shorten The Longin'
Do That Boogie
Ook even beluisteren of zelfs al aanschaffen? Klik hier