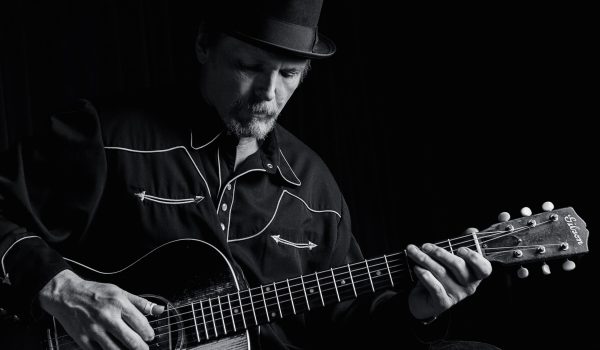 De stijl van Thad Beckman kan worden omschreven als Americana, blues en country met een flinke eigen twist. Vooral zijn gitaarspel wordt geprezen, met veel finger-picking en slide-werk is het de perfecte ondersteuning voor zijn rasperige stemgeluid. Zijn originele liedjes vertellen het verhaal van het leven in Amerika. Je kunt het horen in zijn stem, want hij heeft het beleefd; jarenlang touren bracht hem op de meest uiteenlopende plekken en hij schopte het zelfs tot The Late Show van David Letterman. Beckman is een volbloed troubadour met een eigen stijl en een fikse dosis road credibility. www.thadbeckman.com
Al weer drie decennia is Thad Beckman 'on the road'. Die weg leidt in december naar een aantal mooie podia in Nederland. De Amerikaan (Portland, Oregon) combineert bluesballads met folky rootsmuziek zichzelf begeleidend op de Gibson of op zijn prachtige dobro. Zijn muziek perfect passend bij zijn melancholische teksten.
Thad Beckman speelde in de jaren tachtig als gitarist bij legendarische artiesten als Bo Diddley, The Shirelles en Earl Thomas. Solo heeft hij ondertussen al vijf albums op zijn  naam staan, allemaal zeer de moeite waard.
Tourschema:
Maandag, 11 December: Meneer Frits, Eindhoven
Dinsdag, 12 December: T-Huis, Breda
Donderdag, 14 December: Café De Ouwehoer, Rotterdam
Vrijdag, 15 December: De Amer, Amen
Zondag, 17 December: Café Cambrinus, Horst
Maandag, 18 December: Café 't Zwijnshoofd, Bergen op Zoom
– TIP – Check i.v.m. de weersverwachting van te voren wel even of het optreden doorgaat!