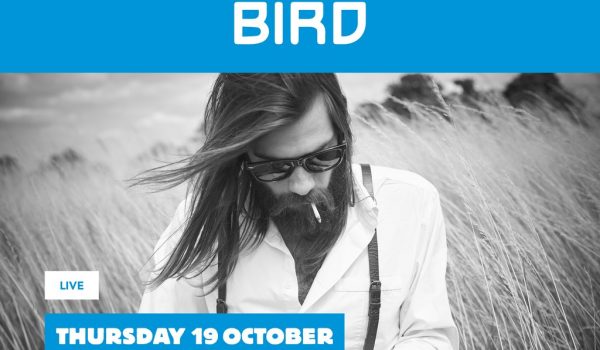 In samenwerking met BIRD mag The Blues Alone? 2 x 2 gratis tickets weggeven!
Jack Broadbent in BIRD!
Velen noemen hem "The new master of the slide guitar", Bootsy Collins noemt hem simpelweg "The real thang". Maak kennis met Jack Broadbent! Deze Britse blueszanger maakte de afgelopen jaren wereldwijd diepe indruk met zijn virtuoze gitaarspel en door folk en blues geïnspireerde vocals. Donderdag 19 oktober brengt hij zijn meesterlijke sound naar BIRD!
Een dieet van John Lee Hooker, Peter Green, Jimi Hendrix en Joni Mitchell 
Bij het horen van de blues van Jack Broadbent denk je al gauw aan een doorleefde Amerikaanse zanger, zittend op een hooibaal, fles drank in de hand. Het tegendeel is waar: Jack bracht zijn jeugd door op het Engelse platteland, waar zijn vader – ook muzikant – hem een muzikaal dieet voorschotelde, bestaande uit artiesten als John Lee Hooker, Peter Green, Jimi Hendrix en Joni Mitchell. Legendes die, als je goed luistert, zo nu en dan terugkomen in zijn karakteristieke gitaarspel en zang.
Hit the road, Jack (…and please come back)
Na te hebben geopend voor grootheden als Lynyrd Skynyrd, Johnny Hallyday, Robben Ford, en Tony Joe White, staat Jack er in 2017 alleen voor. Met een volle Europese tour en de opnames van een nieuw album (dat dit jaar verschijnt!) bouwt hij verder aan zijn razendsnel groeiende fanbase. Dit jaar check je hem nog in BIRD, maar dat zou zomaar de laatste keer in een cozy zaal kunnen zijn…
Wil je kans maken op deze gratis toegangskaarten voor het concert van Jack Broadbent in BIRD – Rotterdam op donderdag 17 oktober 2017, doe dan het volgende:
1. Beantwoord de volgende vraag: Wat gebruikt Jack Broadbent als slide-tool?
2. Stuur je antwoord in een email naar thebluesalone@gmail.com
3. Doe dit o.v.v. 'ticketactie Jack Broadbent'
4. Zet in de mail: je naam, woonplaats, e-mailadres en telefoonnummer!
Inzenden vóór dinsdag 17-10-2017 (sluiting maandag 16-10-17 middernacht!!).
Alleen de winnaars krijgen bericht via email.
Medewerkers van TBA? en Bird zijn van deelname uitgesloten. Succes!!!
Wanneer: donderdag 19 oktober 2017
Aanvang: 20:30 uur 
Deuren open: 20:00 uur
Waar: BIRD, Raampoortstraat 26, Rotterdam
Toegang: € 14,- (VVK) / € 17,- (aan de deur)
CJP: € 12,- (VVK) / € 14,- (aan de deur)
Tickets: klik hier
Nog meer info? Klik hier