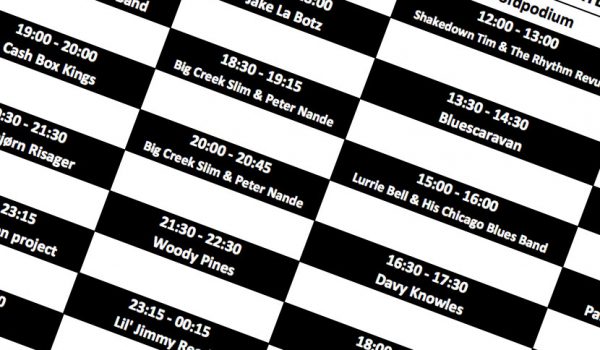 De organisatoren van Moulin Blues 2017 presenteren de timetable voor de 32ste editie!
Wie speelt waar en wanneer?
Bekijk de onderstaand up-to-date timetable of je kunt natuurlijk ook makkelijk hier een pdf formaat downloaden.
The Blues Alone? wenst haar lezers die dit prachtige muziekfestijn bij gaan wonen een fantastisch week-end van ontdekkingen van nieuwe blues/roots muziek maar ook een week-end met weerzien met de bekendere namen in dit genre van de muziek.
Ticketprijzen voorverkoop klik hier voor on-line ticketverkoop:
Voorverkoop vrijdag: €43,50*
Voorverkoop zaterdag: €49,50*
Voorverkoop combiticket: €90,00* (vrijdag + zaterdag)
* Prijzen exclusief €3,50 transactiekosten per bestelling
Kinderen t/m 15 jaar hebben gratis toegang tot het festival, mits begeleid door een volwassene.
Tickets voor Moulin Blues 2017 zijn tevens verkrijgbaar bij alle Primera vestigingen.
Kamperen op de camping van Moulin Blues? Klik hier voor meer info.