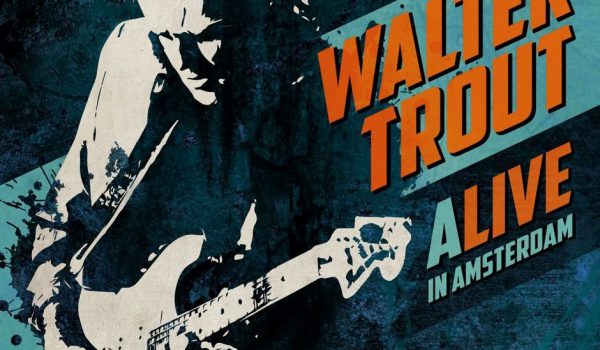 Album: WALTER TROUT – ALIVE IN AMSTERDAM
Artist: Walter Trout
Record Label: PROVOGUE RECORDS (MASCOT LABEL GROUP)
Release Date: 17/06/2016
Recensie: Eric Campfens
Walter Trout is iemand die geen introductie meer behoeft. Eerst als gitarist van John Mayall's Bluesbreakers is hij al ruim 25 jaar als soloartiest bezig. Het jubileum werd wreed verstoord door een zware ziekte, maar na hiervan te zijn hersteld heeft hij vol vuur de draad weer opgepakt. Naast een uitstekende gitarist is hij tevens een goede songschrijver die zijn gedachten en ideeën uitstekend weet te verwoorden.
Na het herstel van zijn ziekte is hij vorig jaar de wereld rondgereisd met zijn 'I'm back'-tour. Tijdens het optreden op 28 november jl. in ons hoofdstedelijk Theater Carré liep de opnameapparatuur mee. Van deze registratie is nu het dubbelalbum "Alive In Amsterdam" verschenen.


Trout wordt begeleid door Sammy Avila (Hammond), Michael Leasure (drums) en Johnny Griparic (bas). Op een van de nummers doet ook zijn zoon Jon mee. Wat we horen is een Walter Trout in topvorm. Het is duidelijk dat hij het die avond prima naar zijn zin heeft. Hij brengt enkele covers, er is een eerbetoon aan B.B. King in "Say Goodbye To The Blues" en verder voornamelijk eigen werk, waarvan een flink deel van zijn laatste studioalbum "Battle Scars".


Wie het nog niet wist, Walter Trout is helemaal terug. Voor degenen die bij het concert aanwezig waren is dit een mooie herinnering. Voor alle andere Trout-fans, waaronder ikzelf, is dit album een 'must have'.
Als u het dubbel album via Mascot Label Group aanschaft krijgt u er een gratis poster bij (zolang de voorraad strekt).
Website: www.waltertrout.com
Website Mascot Label Group: www.mascotlabelgroup.com
Voorproefje:

Tracklisting:
CD 1

1. Marie's Introduction
2. Play The Guitar
3. Help Me
4. I'm Back
5. Say Goodbye To The Blues
6. Almost Gone
7. Omaha
8. Tomorrow Seems So Far Away
9. Playin' Hideaway
10. Haunted By The Night
CD 2
1. Fly Away
2. Please Take Me Home
3. Rock Me Baby
4. Marie's Mood
5. Serve Me Right To Suffer
6. Love That We Once Knew