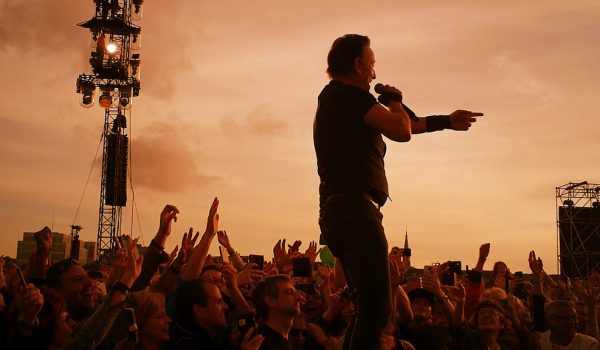 Bruce Springsteen & The E Street Band speelden 14 Juni op het Malieveld – Den Haag. Een verslag van Giel van der Hoeven. Photocredits MOJO (Andreas Terlaak), Omroep West (Pierre Oitmann/) en Lizzy van der Hoeven. Clip Giel van der Hoeven.


Alles wat Bruce Springsteen doet of om hem heen gebeurt kan je positief of negatief benaderen. De setlist met zowel hits als obscure songs, zijn tekstgebruik. De marathonoptredens met geraffineerde (thema) liveshows. Uitbundig poserende fans in het voorvak, wanneer ze in beeld komen via de levensgrote led-schermen. Met hun aandachttrekkende leuzen op pizzadozen (request signs). Het gedweep met smekende vrouwelijke fans (Dancing In The Dark) en kinderen (Waiting On A Sunny Day).

Maar de meningen na afloop van de concerten zijn eigenlijk altijd zeer positief. Ook al zóu je alles negatief benaderen; alles wat hij doet is àltijd oprecht! Die oprechtheid, gecombineerd met zijn tomeloze energie, de geweldige E Street Band – uitgedund, zonder achtergrondzang en extra blazers dit keer – en constant hoogstaand repertoire sinds de jaren '70, maken dat Bruce Springsteen baas boven baas is én blijft. The Boss! Dat was hij zo'n 41 jaar geleden al bij zijn 1e optreden hier in de Amsterdamse RAI en dat is hij tijdens zijn 25e Nederlandse show in Den Haag nog steeds.


In een knotsgekke wereld waarin eensgezindheid ver weg lijkt te zijn is er bij weldenkende mensen meer dan ooit behoefte aan gezamenlijke bijeenkomsten zoals die dinsdag op het Haagse Malieveld plaatsvond. The Boss speelt elk optreden alsof het zijn laatste is, zijn publiek beleeft het keer op keer mee als sublieme apotheosen. Met verlangen naar love, hope, romantic dreams, an everlasting kiss, the promised land. Songs als grensverleggende avonturen gespeeld met ongekende bezieling en vitaliteit. Of, zoals Steve Van Zandt ooit zei: "Je hebt al die liedjes al talloze malen gehoord, maar het is steeds alsof je ze voor het eerst hoort".


Daarom is steeds zijn laatste concert de beste en zal de volgende nóg beter zijn. Althans, in ieders persoonlijke beleving want Bruce is voor iedereen en van iedereen. Individueel koesteren we allemaal ónze persoonlijke momenten die zo herkenbaar zijn, dat het ons allemaal weer verbindt. Met herinneringen, toekomstdromen en het denken in nu. Swingend maar met de voeten stevig op de grond. Het akoestische slotakkoord in Den Haag was veelzeggend:
'Well if you can't make it
Stay hard, stay hungry, stay alive
If you can
And meet me in a dream of this hard land'
Clip Born to Run:



Setlist: Badlands, No Surrender, My Love Will Not Let You Down, From Small Things (Big Things One Day Come) (Tour Debut, Sign Request), Sherry Darling, Night, Spirit in the Night, My City of Ruins, Jersey Girl
(Tom Waits cover) (Tour Debut, Sign Request), Hungry Heart, Out in the Street, You Can Look (But You Better Not Touch), Death to My Hometown, The River, Racing in the Street (Tour Debut, Sign Request), The Promised Land, Working on the Highway, Darlington County, Waitin' on a Sunny Day, I'm on Fire, Because the Night (written for Patti Smith Group), The Rising, Thunder Road, Land of Hope and Dreams (finished Song with People Get… more ) Encore: Jungleland (Sign Request), Born to Run, Seven Nights to Rock (Moon Mullican cover), Detroit Medley (Sign Request), Dancing in the Dark, Tenth Avenue Freeze-Out, Shout (The Isley Brothers cover) (with introduction of the band members) Encore 2: This Hard Land (Acoustic).