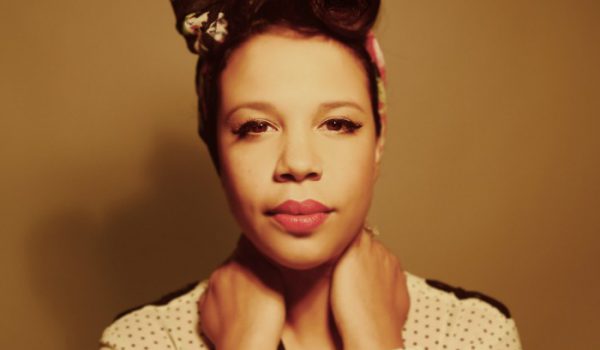 Shayna Steele is zo'n artiest waarvan je de stem ongetwijfeld hebt gehoord, maar de naam misschien niet van kent. Haar krachtige stem was tot voor kort vooral in de achtergrond te horen bij grootheden zoals Lizz Wright, Kelly Clarkson, Bette Midler, deed de backing vocals voor Moby, John Legend, Queen Latifah en was te horen op de soundtracks van uiteenlopende films en series als Sex and the City 2 en The Sopranos.


Maar naast haar reputatie als pop-en-r&b-backing-vocal-diva heeft ze ook serieuze jazz-cred. Zo werkte ze samen Bjorkestra, Dave Douglas maar de grote verandering kwam in 2014 toen ze in 2014 op het North Sea Jazz Festival bij het concert van Snarky Puppy de lead-vocalen op zich nam (zie video). Dit werd zo goed ontvangen dat Snarky Puppy besloot haar track 'Gone Under' op te nemen op Family Dinner, Volume 1.


Het betekende de kickstart voor een serieuze solocarrière. Op haar laatste album – Rise – kreeg ze dan ook de medewerking van bassisten Marcus Miller en Christian McBride en saxofonist Andy Snitzer. Wat opvalt is dat Shayna moeiteloos van jazzy ballads zoals 'Paper Bag' schakelt naar uptempo soul songs zoals 'Wear Me Down'.


Verder maakte Shayna Steele al naam in tal van grote musicals zoals Jesus Christ Superstar en Hairspray op Broadway in New York en zong ze zelfs de vocalen in van Moby's nummer 1-hit 'Disco Lies'. Deze zomer staat ze voor het eerst met haar eigen kwartet in de North Sea Jazz club in Amsterdam waar ze (o.a.) nummers van haar laatste plaat Rise laat horen.


Luister naar een paar voorproefjes van Shayna Steele om alvast in de stemming te komen.
Jazzism actieticket *: € 17,00
Entree: € 20,00 (klik hier)
Deuren open: 20:00 uur
Aanvang concert: 21:00 uur
* Vul bij betaling de actieticket code in, die je kunt vinden in de Jazzism. Wil je 40% korting op een jaarabonnement van Jazzism?
Kijk voor meer info hier: www.jazzism.nl/NSJCLUB
Dit concert wordt mede mogelijk gemaakt door Jazzism – Het enige jazzblad in Nederland. Ieder nummer vol jazz, soul, world, funk, urban, blues & singer-songwriters.
Photocredits: Shervin Lainez