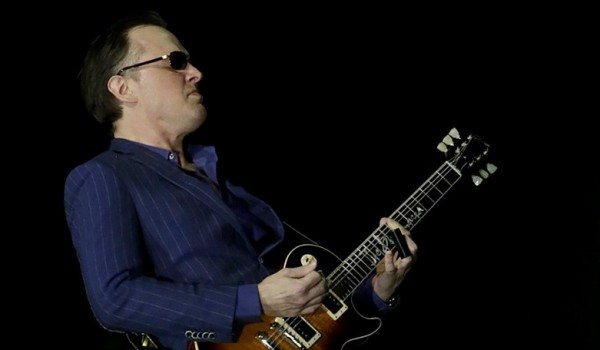 Joe Bonamassa speelde de EWE Arena te Oldenburg op 9 maart 2016. Een verslag en met foto's van Gerrie van Barneveld.
Ik ben te gast bij de oosterburen in de EWE Arena, een fascinerend gebouw dat in 2013 werd geopend en onderdak biedt aan sport- en muziekactiviteiten. Vanavond biedt het onderdak aan de grootmeester op gitaar, Joe Bonamassa in het kader van de Guitar Event of the Year. Bonamassa werd in 1978 geboren, in New York, als zoon van een gitaarhandelaar. Hij leerde op jonge leeftijd gitaar spelen en gaf op zijn 11e zijn eerste concert met B.B. King, de leermeester met wie hij daarna veel toerde.


Het blijft een wonderlijke zaak, dat zittend publiek in Duitsland. Je zou eerder verwachten dat bij een concert van een blues/rock legende, de mensen zich met ellebogenwerk zouden verdringen voor het podium. Niets van dit alles, in Duitsland gaat het er keurig aan toe. Kort voor acht uur doven de lichten onder de klanken van Ring of Fire van Johnny Cash.


Reese Wynans, bekend van Double Trouble zet het intro in van Locomotive Breath (Jethro Tull) en zet hiermee toon voor de opening van het concert, het gedragen This Train. De trein is vertrokken; de man in pak is binnen, vingervlug als altijd!
Een blokje met nieuwe werk volgt; Mountain Climbing, Blues of Desperation en No Good Place for the Lonely van het album dat binnenkort verschijnt, Blues of Desperation. Bonamassa wisselt regelmatig van gitaar maar houdt de vaart er flink in. De schijnwerper wordt regelmatig gericht op de leden van zijn band. Zo neemt Anton Fig in Angel of Mercy een drumsolo voor zijn rekening en wordt Love Ain't A Love Song opgesierd met een hammondsolo van Reese Wynans. Bonamassa toert niet met zomaar muzikanten, dat kun je wel horen.


Fijn ook die blazers. Lee Thorburg en Paulie Cerra soleren er zo nu en dan lustig op los. De meeste aandacht gaat vanzelfsprekend naar de corebusiness van de meester zelf; het voortreffelijk gitaarwerk dat het midden houdt tussen blues en rock.


Het is de muziek waar het om draait vanavond. Pas halverwege de show worden de eerste woorden tot het publiek gericht, veel gepraat zal er niet worden. Een blokje met covers van de King's (B.B., Freddy en Albert) grijpt terug op oude blueswaarden. Nobody Loves Me But My Mother groeit van bijna niets uit tot een majestueus muziekstuk met meeslepend soleerwerk. Smullen voor iemand die het betere gitaarwerk kan waarderen. De show wordt afgesloten met Sloe Gin en een lang uitgesponnen versie van de Ballad of John Henry. Het publiek is toch maar gaan staan.


In de toegift, All Aboard (Muddy Waters), gaan Joe en Michael Rhodes nog even lekker het gitaarduel aan. De bestemming is na ruim twee uur bereikt. Bonamassa en band gaan op naar het volgende station in de tour. Mijn eindbestemming is Assen.
Playlist:
This Train
Mountain Climbing
Blues of Desperation
No Good Place for the Lonely
See See Baby (Freddie King cover)
Never Make Your Move Too Soon (B.B. King cover)
Angel of Mercy (Albert King cover)
Hey Baby (Jimi Hendrix cover)
Oh Beautiful
Love Ain't a Love Song
Nobody Loves Me But My Mother (B.B. King cover)
I gave up Everything for You 'Cept the Blues
Goning Down (Moloch cover)
Sloe Gin (Tim Curry cover)
The Ballad of John Henry
Encore:
All Aboard (Muddy Waters cover)