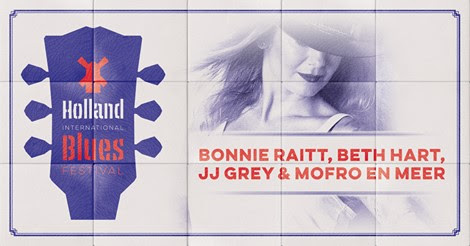 In het Drentse Grolloo komen artiesten en liefhebbers 3 en 4 Juni a.s., samen voor een tweedaagse evenement dat geheel in het teken zal staan van de bluesmuziek. Het in 'Woodstock-sfeer' aangeklede festivalterrein van het eerste Holland international Blues Festival heeft natuurlijk plaats in het Drentse Grolloo; dé bakermat van de Neerlandse blues. Grolloo, het blueswalhalla, het Mississippi, het Alabama van Europa gestalte gegeven door wijlen Harry 'Cuby + Blizzards' Muskee.
Helaas is het de blues nooit gelukt om echt tot het grote publiek door te breken. Bluesgiganten zoals B.B. King, Eric Clapton, Jimi Hendrix en Stevie Ray Vaughan hebben wél getracht om een goede balans tussen het populaire genre en de blues teweeg te brengen maar jammer genoeg was er nooit sprake van een échte doorbraak in de muziekscene. De blues is tot op de dag vandaag de ondergeschoven en onbegrepen telg van de hedendaagse populaire muziek.
Het Holland international Blues Festival wil zich voor de blues profileren als het Monterey van Europa. Het streven is het podium te worden waar gevestigde artiesten maar ook  jonge bluesmusici hun vaardigheid kunnen tonen. Johan Derksen en de organisatoren willen met dit festival bewerkstelligen dat de  blues een doorbraak gaat maken en de internationale erkenning krijgt die zij verdient.
Johan Derksen en de organisatoren hebben een niet te missen line-up weten samen te stellen; naast Bonnie Raitt (eenmalig optreden in Nederland) prijken ook namen als Beth Hart, JJ Grey & Mofro, Robert Randolph, Jools Holland, Tedeschi Trucks Band en Jimmie Vaughan op het affiche.
Info. omtrent reis & verblijf vindt u als u hier klikt.
Foto credits: Pers HIBF, José Gallois, Arjan Vermeer, Official site Bonnie Raitt.
See You in Blues Village Grolloo!
Festivalterrein open om 17:30 uur.
Programma start om 19:30 uur (time-table nog niet vrijgegeven!).
JOOLS HOLLAND & HIS RHYTHM & BLUES ORCHESTRA Ft. Gilson Lavis, Ruby Turner, Louise Marshall & Mabel Ray (New Orleans Jazz-Hot Club-Swing)


BETH HART (Pop, Blues)


ANA POPOVIC (Blues, R&B, Funk, Soul)


Zaterdag 4 juni 2016:
Festivalterrein open om 14:30 uur.
Programma start 16:00 uur (time-table nog niet vrijgegeven!)
ROBERT RANDOLPH & The Family Band (Funk, Soul, Gospel)
UPDATE 10 MEI: door omstandigheden komt het optreden van JIMMIE VAUGHAN & The Tilt-a-Whirl Band Ft. Lou Ann Barton te vervallen. De organisatie heeft in all-star band SUPERSONIC BLUES MACHINE een prima vervangende act gevonden! Dit supersonische bluesrock gezelschap bestaat namelijk uit o.a.: Billy Gibbons (ZZ Top), Robben Ford, and Walter Trout!
JJ GREY & MOFRO (Southern Rock, Blues, Soul)

TEDESCHI TRUCKS BAND (moderne Amerikaanse rootsmuziek)
BONNIE RAITT (Blues, Singer-Songwriter)
Tickets:
Dagkaart
Een dagkaart geeft toegang tot het festival voor één dag op 3 juni óf 4 juni. Een dagkaart kost € 45 excl. servicekosten (= 10% kaartprijs).
2-Dagenkaart
Een 2-dagenkaart geeft toegang tot het festival voor beide dagen: 3 juni en 4 juni. Een 2-dagenkaart kost € 75 excl. servicekosten (= 10% kaartprijs).
Tickets zijn verkrijgbaar via Ticketmaster (klik hier)
Festival kassa: Gedurende het festival kunnen er ook kaarten gekocht worden aan de kassa, mits nog niet uitverkocht (openingstijden van de kassa worden later op de website bekendgemaakt)