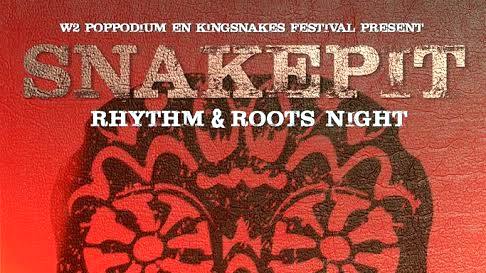 Hét poppodium van Den Bosch W2 en het Rossumse Kingsnakes Festival presenteren 27 Maart a.s. in de W2 aan de Boschveldweg in Den Bosch Snakepit Rhythm & Roots Night.
Oók zal op deze avond de vernissage van de fototentoonstelling van André Dieterman 'Raw Again' plaats vinden. Deze meesterfotograaf zette al menige muzikant 'off stage' op de gevoelige plaat, een 'must see' voor fotografie liefhebbers. De expositie wordt om 20:00 uur officieel geopend met gratis champagne, dus zorg dat je erbij bent!
Op deze Snakepit Rhythm & Roots Night zullen drie bands acte-de-présence geven.

Publiekstrekker is
T-99
, dé roots band die tussen 2000 en 2007 in binnen en buitenland  furore maakte.  Het trio bestaande uit
Mischa Den Haring
,
Martin de Ruiter
en
Donné la Fontaine
deelde met niet de minste muzikanten het podium. Zo stonden zij met o.a. Dr. John, The Paladins en Los Lobos op het podium. 
Na acht jaar zijn de drie mannen weer op tour en brengen zélfs heel binnenkort (voorjaar) weer na lange tijd een album uit.  Ter promotie van 
het nieuwe album 'The Various Sounds of T-99' zullen zij vrijdagavond 27 Maart a.s. een aantal nummers ten gehore brengen maar ongetwijfeld brengen zij ook nummers uit hun zeer succesvolle carrière.
Rootbag is de tweede band van de line-up van drie bands op deze Snakepit Rhythm & Roots Night.  Rootbag bestaande uit Richard van Bergen, Jody van Ooijen en Roelof Klijn oogstte vele lyrische recensies voor hun eerste album met de gelijknamige titel. Het album werd zelfs bekroond met de Dutch Best Blues Album 2014 Award.  Ook Rootbag stond al met vele bekende uit de muziek op een podium zoals Duke Robillard en Malford Milligan en Matt Schofield. Rootbag's inspiratie ligt in het zuiden van de VS, zij mixen New Orleans' grooves met Louisiana swamp en Mississippi blues.
Big Ritch & the Blacksmith Company is de derde band van de line-up. Zij spelen een mix van rockabilly en blues. Big Ritch & the Blacksmith Company vinden hun inspiratie o.a. in Freddie King. De harpsolo's van Big Ritch samen met de opzwepende ritmes van the Blacksmith Company zijn dé garantie om een onvergetelijke avond te hebben waar
je de heupen niet stil kan houden.
Poppodium W2
Boschveldweg 473
5211 VK Den Bosch
Aanvang: 20:30 uur
Zaal open: 20:00 uur