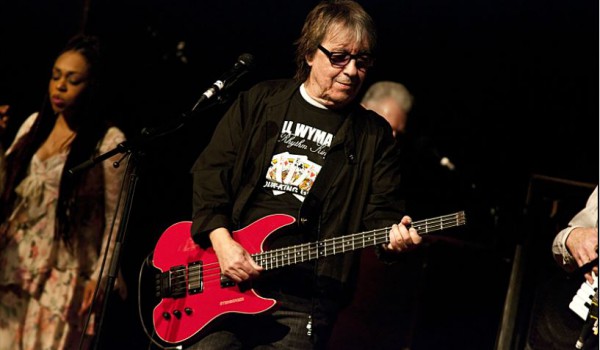 [KLIK HIER VOOR ONS VERSLAG VAN HET OPTREDEN IN DE MELKWEG]
​
Bill Wyman's Rhythm Kings zijn op tournee in Europa! De tour gaat -gedurende zes weken- door landen als Duitsland, Frankrijk, Belgie, Nederland, Denemarken, Norwegen en Zweden. Bill Wyman's Rhythm Kings zal worden vergezeld door special guest Mary Wilson van The Supremes.
Op donderdagavond 6 november spelen The Rhythm Kings van ex-Rolling Stone bassist Bill Wyman  in De Melkweg met als special guest actrice en zangeres Ellen Ten Damme ter vervanging van Mary Wilson, die die avond andere verplichtingen heeft.
Na 31 jaar de bassist geweest te zijn van The Rolling Stones heeft Bill Wyman sinds 1997, een eigen band: The Rhythm Kings. Deze 9-koppige all-star
band weet op sublieme wijze klassiekers uit de Rhythm and Blues, Soul en Rock n Roll zoals "You Never Can Tell", "I Put a Spell on You" en "Honky Tonk Women" neer te zetten. Een unieke band dankzij de topmuzikanten én de grote verscheidenheid aan muziek die zij ten gehore brengen. Elk optreden is een feest voor jong en oud, voor henzelf, en daardoor helemaal voor het publiek!
Als je wilt weten waar Bill Wyman's Rhythm Kings nog meer speelt in Europa  bezoek dan deze pagina of kijk in onderstaande lijst voor de Nederlandse speeldata:
1 November – Uden (Theater Markant)
2 November – Heerlen (Parkstad Limburg Theatre)
3 November – Eindhoven (Muziekcentrum)
5 November – Schiedam (Theatre aan de Schie)
6 November – Amsterdam (Melkweg) met speciale gast Ellen ten Damme!
11 November – Arnhem (Luxor Live)
12 November – Enschede (Wilmink Theatre)
13 November – Groningen (Martini Plaza)
14 November – Steenwijk (De Meenthe)
16 November – Den Haag (World Forum)
www.billwyman.com (Lees ook ons verslag van het optreden van Bill Wyman's Rhythm Kings in 2011)
www.ellentendamme.nl (Lees ook ons interview met Ellen ten Damme  in 2012 )