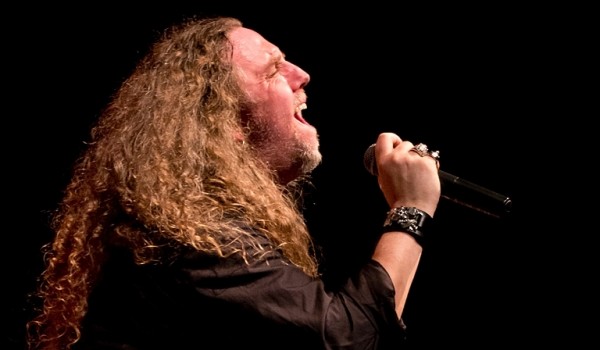 Op de Tribute avond in DOK6 op 11 januari jl. in Panningen speelden Parris en BloYaTop songs van resp. Thin Lizzy en ZZ TOP. Tekst en foto's van Barbara 'Babs' van Geffen
In het theater van DOK6 te Panningen (Limburg) vond op zaterdag 11 januari een tribute-avond plaats met BloYaTop (ZZ Top) en Parris (Thin Lizzy), twee topbands uit het zuiden van het land met allebei heel veel ervaring. Als we rond de klok van negen uur het theater binnen lopen is het nog vrij rustig, maar al snel vult de zaal zich met de nodige mensen om het gezellig druk te maken.
De aftrap werd gedaan door BloYaTop, die naast gitarist Mark Vergoossen (Mark Ferguson) uit bassist Eric Fox (Mr.E.) en drummer Paul Heuts (Paul Huge) bestaat.  BloYaTop timmert al jaren zeer succesvol aan de muzikale weg, en sinds de release van hun CD, Why Waltz' (If You Can Rock and Roll), dat uitsluitend eigen werk bevat, lijkt hun succes een vogelvlucht te nemen. Zo speelden ze afgelopen zomer uiterst succesvol op het Bospop festival in Weert tussen grote namen als Roger Hodgson, Crosby Stills & Nash, Golden Earring en natuurlijk hun grote helden ZZ Top! Ook tekende de band een platencontract bij REMusic Records en is er de afgelopen maanden hard gewerkt aan een nieuw album, dat zeer binnenkort zal uitkomen! [red.:Lees ook het interview wat TheBluesAlone? vorig voorjaar met de mannen van BloYaTop hadden]
BloYaTop weet als geen ander hoe je zo'n "tribute" avond moet openen en doen dat uitstekend met
Thunderbird, van het album Fandago! en Gimme All Your Lovin'is van het album Eliminator. Een goed begin is het halve werk, moeten de bandleden hebben gedacht want de sfeer zat er gelijk goed in. Er werd voortgezet met Pokerjoker, een eigen nummer van het album Why Waltz' (If You Can Rock and Roll). Van datzelfde album werden later in de setlist, Lez Burn en Demolition Crush gespeeld, twee puike rock nummers die er bij de aanwezigen ingaat als zoete koek.
Het was genieten met een grote G vanaf de eerste tot de laatste noot want de no nonsense rock 'n roll, blues en boogie covers van ZZ Top waaronder Cheap Sunglasses, Heard It On The X en Beer Drinkers And Hell Raisers, werden met veel power, plezier en humor tot in de perfectie nagespeeld. De drie heren beheersen hun instrumenten perfect en zijn goed op elkaar ingespeeld. Het gitaarwerk van Vergoossen is absoluut briljant, en de ritmesectie Fox/Heuts die respectievelijk ook de zang en backing vocals voor hun rekening nemen is minstens even indrukwekkend. Een uitstekende show van een band die na jaren gefungeerd te hebben als tribute band (dit was hun laatste show) zich gaat toeleggen op het schrijven en spelen van eigen werk!
Setlist BloYaTop

: Thunderbird, Gimme All Your Lovin, Pokerjoker (eigen werk), Cheap Sunglasses, Pincushion, Heard It On The X, Waiting For The Bus, Jesus Just Left Chicago, Beer Drinkers And Hell Raisers, Lez Burn (eigen werk), Sharp Dressed Man, Demolition Crush (eigen werk). Toegift: La Grange, Tush.
De Thin Lizzy tribute band Parris, die de m
uzikale spirit van de jaren zeventig levend wil houden mocht deze avond afsluiten. De band is vernoemd naar Philip "Parris" Lynott, zanger/bassist van Thin Lizzy, die op 4 januari 1986 stierf aan de gevolgen van jarenlang druggebruik.  [red.: lees hier ons interview met de huidige bezetting van Thin Lizzy, die nu optreden onder de naam Black Star Riders] De band bestaat uit 5 zeer enthousiaste muzikanten, drummer Hans in 't Zandt, bassist Gerard Gubbels, gitarist Mark Vergoossen, gitarist Gert-Jan
Roemen en zanger John 'Jaycee'  Cuijpers. Stuk voor stuk klasse muzikanten die hun instrumenten tot in de puntjes beheersen en bovendien uitstekend op elkaar zijn ingespeeld. Vooral de dubbele gitaarsolo's, hét handelsmerk van Thin Lizzy, worden door beide gitaristen Mark Vergoossen (Fender) en Gert-Jan Roemen (Gibson) op verbluffende wijze gespeeld. Maar ook de ritmesectie Hans en Gerard laten zich van hun beste muzikale kant zien en horen., en de fantastische rock stem van John 'Jaycee' Cuijpers maakt het muzikale plaatje compleet.
Vanaf het eerste nummer Jailbreak gaat de beuk erin en krijgen we een super strakke show voorgeschoteld waarin o.a. Waiting For An Alibi, Rosalie, Are You Ready, Don't Believe A Word, The Boys are Back In Town en Black Rose voorbij komen. Wie de band een beetje volgt weet dat ze ook als Harris, een Iron Maiden tribute geboekt kunnen worden en als voorproefje kregen we het nummer, The Trooper voorgeschoteld. Echt top! Deze band behoort absoluut tot één van mijn favoriete cover bands, want zo perfect als Parris rockt er niet één!
Setlist Parris:

Jailbreak, Waiting For An Alibi, Cold Sweat, Rosalie, Killer On The Loose, Dancing In The Moonlight, Massacre, Are You Ready, Suïcide, Got To Give It Up, Hollywood, Emerald, Don't Believe A Word, Still In Love With You, Cowboy Song, The Trooper (Iron Maiden), The Boys are Back In Town, Toegift: Black Rose, Whiskey In The Jar, The Rocker.