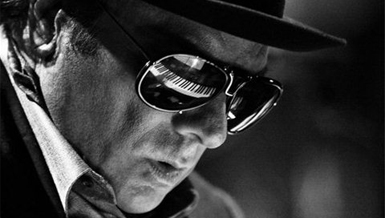 Singer-songwriter George Ivan Morrison wordt op 31 augustus 1945 geboren in Belfast. Muziek wordt hem met de paplepel ingegoten: zijn moeder was een zangeres en zijn vader was een fervente verzamelaar van Amerikaanse jazz en blues opnames. Deze invloeden zijn terug te horen in zijn liedjes waarin genres als blues, jazz, soul, rock, r&b, celtic folk en gospel allemaal terugkomen.
Van Morrison sluit zich in 1963 aan bij de band Them. Na het succes met deze groep besluit hij in 1967 solo door te gaan en hij breekt door met het nummer Brown Eyed Girl, een zonnig en vrolijk liedje. Het succes van dit nummer zorgt ervoor dat zijn eerste solo album wordt uitgebracht: 'Blowin' your mind!'. Inmiddels heeft hij maar liefst 34 prachtige albums uitgebracht waarmee hij geheel terecht is opgenomen in de Rock and Roll Hall of Fame en in de Songwriters Hall of Fame.
Voorlopig tijdschema: (onder voorbehoud)

18.00u Deuren open
19.20u Daniël Lohues
19.40u Pauze/change over
20.00u Van Morrison
Support act: Daniël Lohues
Daniël Lohues is componist, zanger, multi-instrumentalist en producer. Hij speelde in verschillende Engels- en Nederlandstalige bands zoals, The Bedrock Shuffle, The Charlies, Skik en Lohues & the Louisiana Blues Club en gaat sinds 2004 jaarlijks langs de Nederlandse theaters met zijn succesvolle akoestische voorstellingen waarin verhalen en muziek elkaar afwisselen. [lees ook: Waarheden uit de huiskamer].