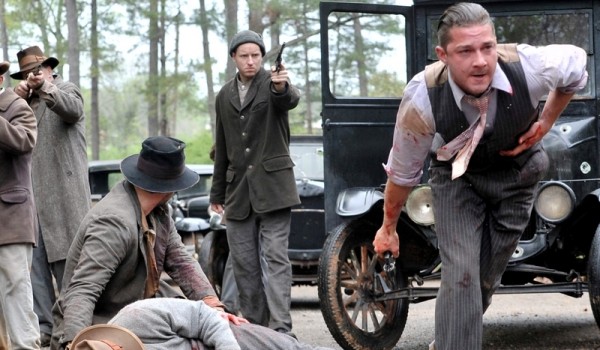 Nick Cave (54) kennen we natuurlijk het beste als muzikant, solo en met de groepen The Birthday Party, The Bad Seeds en Grinderman. Maar in de wereld van de film roert hij zich ook regelmatig en hevig. Hij werkte samen met regisseur John Hillcoat aan de horrorfilm 'Ghosts of Civil Dead' (1996) en maakte hiervoor de soundtrack. Die samenwerking monde uit in het schrijven van het scenario en de soundtrack voor de gruwelijke Australische Neo-Western 'The Proposition' (2005) ook onder regie van John Hillcoat. Evenals de soundtrack door Nick Cave en Warren Ellis voor 'The Road'(2009), gebaseerd op de gelijknamige roman van Cormac McCarthy. In 2007 verzorgde Nick Cave ook de muziek voor de film 'The Assassination of Jesse James by the Coward Robert Ford', en hij was te zien in een bijrol. En onlangs gaf hij muzikaal advies voor de in 2012 te verschijnen 3D-animatiefilm 'Pinocchio' van de Mexicaanse producent en regisseur Guillermo Del Toro. En in mei van dit jaar werd op het filmfestival in Cannes  'Lawless' van scenarioschrijver Cave & regisseur Hillcoat gepresenteerd. Op 29 augustus zal deze misdaadfilm wereldwijd in première gaan. 
Het script van 'Lawless'  is gebaseerd op waargebeurde feiten zoals beschreven in het boek 'The Wettest County in the World' van Matt Bondurant, kleinzoon van Jack Bondurant. Deze Jack (Tom Hardy) en zijn twee andere Bondurant-broers (Shia LaBoeuf en Jason Clarke) besluiten tijdens de drooglegging in de jaren dertig een illegale drankhandel op te zetten. Met behulp van de lokale crimineel Floyd Banner (Gary Oldman) groeit dat snel uit tot een succesvolle onderneming. Maar hiermee halen ze zich wel de woede op de hals van Chicago gangsters en de corrupte special agent Rakes (Guy Pearce), die een gewelddadige werkwijze niet schuwt bij het naleven van de wet.
Ook voor de soundtrack van 'Lawless'  is Nick Cave weer verantwoordelijk, samen met zijn 'bearded buddy' Warren Ellis werd de band 'The Bootleggers' samengesteld. Met gasten als Mark Lanegan, Ralph Stanley, Leila Moss, Emmylou Harris en Willie Nelson staan daar eigen composities op maar ook songs van o.a. Link Wray, John Lee Hooker, Captain Beefheart en Lou Reed. Cave schreef het script en de muziek gelijktijdig. De muziek is een warboel van Appalachian viool folkmuziek met rock en electronica, waaronder een langzame bluegrass-versie van de Velvet Underground's 'White Light/ White Heat'. "We wilde persé geen waardige Americana-style soundtrack maken,", aldus Cave. "Dat is al zeer goed gedaan in, laten we zeggen,'O Brother, Where Art Thou?' [the Coen Brothers] en dat soort dingen. Dus daar wilde we zo ver mogelijk van weg blijven." Het geluid klinkt daarom ook meer hedendaags inplaats van jaren '30 nostalgisch.
Gaan al deze activiteiten niet ten kosten van de muzikale Nic Cave bandactiviteiten dan? Dat vroeg Bad Seeds- en Grinderman drummer Jim Sclavunos zich in december 2011 ook al af. Hij zinspeelde erop dat Cave zijn bandleden had 'verwaarloosd' en dat het "hoog tijd" was om weer eeens met elkaar muziek te gaan maken. Niet geheel onterecht omdat Cave zich eerder had laten ontvallen dat een opvolger voor 'Dig, Lazarus, Dig!' (2008) klaar zou zijn voor release in 2011. Dat zal zoals het zich nu laat aanzien pas 2013 worden, temeer omdat op 10 december 2011 de groep Grinderman onaangekondigd aankondigde per direct uit elkaar te gaan.
TRACKLISTING:
01. Fire and Brimstone – The Bootleggers w/ Mark Lanegan | Song: Link Wray
02. Burnin' Hell – The Bootleggers | Song: Bernard Besman and John Lee Hooker
03. Sure Nuff – The Bootleggers w/ Ralph Stanley | Song: Captain Beefheart
04. Fire In The Blood – The Bootleggers w/ Ralph Stanley | Song: Cave and Ellis
05. White Light/White Heat – The Bootleggers w/ Mark Lanegan | Song: Lou Reed
06. Cosmonaut – The Bootleggers w/ Emmylou Harris | Song: Cave and Ellis
07. The Snake Song – The Bootleggers w/ Emmylou Harris | Song: Townes Van Zandt
08. So You'll Aim Toward the Sky – The Bootleggers w/ Leila Moss and Emmylou Harris | Song: Grandaddy's Jason Lytle
09. Fire In The Blood – The Bootleggers w/ Emmylou Harris | Song: Cave and Ellis
10. Fire and Brimstone The Bootleggers w/ Ralph Stanley | Song: Link Wray
11. Sure Nuff The Bootleggers w/ Mark Lanegan| Song: Captain Beefheart
12. White Light/White Heat – Ralph Stanley | Song: Lou Reed
13. End Crawl | Song: Cave and Ellis
14. BONUS TRACK: Midnight Run – Willie Nelson | Song: Marc Copely, James Bernard Dolan, Adam Stuart Levy
The trailer for Lawless is now online, check it out!