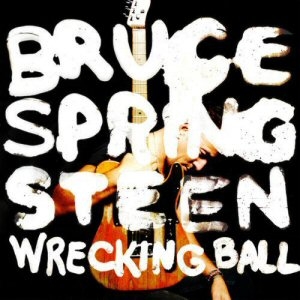 Bruce Springsteen heeft op donderdag 16 februari in Théâtre Marigny op een internationale persvoorstelling in Parijs zijn nieuwe album 'Wrecking Ball' gepresenteerd. De release van dit album is vrijdag 2 maart. Op 'Wrecking Ball' werkt Bruce voor het eerst samen met een nieuwe producer, Ron Aniello. Bruce werd bij de persconferentie in Parijs ondervraagd door Antoine de Caune.
Tekstueel heeft het album een zware politieke lading. The Boss maakt zich boos en verbaasd zich over het gedrag van de Amerikaanse overheid en de burgers. Er komt veel aan bod zoals, de bankiers en de dakbedekkers, woede, geweld, diefstal, de recessie, de financiële en economische crisis, rijkdom, armoede, kapitalisme, de graaicultuur, de Occupy Wall Street-beweging, Bush, Osama bin Laden, Obama, General Motors, het zorgstelsel, Jack Of All Trades (Henk van Ingrid). Toch zegt de boze Boss-man in Parijs géén politieke ambities te hebben: "ik ben gewoon een liedjeszanger, dat is het enige wat ik kan en zal ik altijd blijven doen. Mijn intentie is slechts om te bewerkstelligen wat Bob Dylan ooit ook bij mij deed: kick open your mind."
Maar gelukkig bevat het album zoals we van Bruce gewend zijn ook optimistische teksten, bijbelse beeldspraak en vooral opbeurende rockmuziek met folk- en gospelinvloeden. Mooie ballads, samples, voice overdubbing en zelfs wat experimenteel werk. Een uitgebreide songanalyse van 'Wrecking Ball' kan je lezen in het internetmagazine Be True.
Bruce Springsteen – Wrecking Ball (2012)
01. We Take Care of Our Own (rock)
02. Easy Money (folk/hiphop)
03. Shackled and Drawn (folk/gospel)
04. Jack of All Trades (ballad)
05. Death to My Hometown (folk)
06. This Depression (ballade feat. Tom Morello guit.)
07. Wrecking Ball (folk rock)
08. You've Got It (rockabilly)
09. Rocky Ground (expirimenteel)
10. Land of Hope and Dreams (gospel w/ Clarence Clemons sax)
11. We Are Alive (folk)
12. Swallowed Up (bonus)
13. American Land (bonus)
Bruce Springsteen kwam op 16/2/2012 in Théâtre Marigny in Parijs zijn nieuwe album "Wrecking Ball" voorstellen op de internationale persvoorstelling.
Release van dit album is vrijdag 2 maart.

Lees hier meer over Wrecking Ball:
Songanalyse Wrecking Ball
Het Nederlandse Oor bespreekt Wrecking Ball track by track
Listen: Four Songs From Bruce Springsteen's New Album 'Wrecking Ball'
De nieuwste van Springsteen gaat over de crisis – en is opbeurend