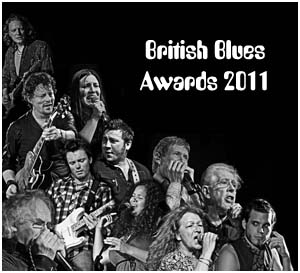 review by Nicolette Johns, photos by José Gallois
Sunday was the last day of the Newark Blues Festival bùt also the day the British Blues Awards finally got presented to the respective winners. But before the first band started their set, Sunday's MC Simon Redley requested us to join a memorial ceremony bound to take place at the entrance of the Castle's grounds in honour of
Kevin Thorpe (vocalist/guitarist Tipping Point) who passed away last year just after his performance on the Newark Blues Festival. A tree was planted with a plaque to commemorate his passing. Also at this memorial ceremony, the now called 'Kevin Thorpe Songwriter of the Year Award' was presented, which went to Joanne Shaw Taylor for her song 'Same As It Never Was'.
First band to get the crowd into shape is the 'Cliff Brown Band', a band with the soulful-sounding Cliff Brown on vocals and guitar, Ian Beestin on drums and Karl Bingham on bass of whom I instantly recognised his influences and fortunately he later confirmed them;
Stanley Clark, Marcus Miller and Victor Wooten. We especially liked their song 'Torn Down', good band, strange that we have never seen them over on the continent.
After the first band finished their set MC Simon Redley lead us to the first part of the presentation of the British Blues Awards 2011, according to the statistics apparently this year's edition consisted of about 80,000 voters from over a 100 different countries which is even more than the W.C. Handy Awards achieved to attract this year! First B.B.A., presented by
Richard Pavitt (Nugene Records & Blues Alive foundation), this Sunday was for Blues Festival of 2011 which went to Colne Rhythm & Blues Festival. Followed by the presentation of the B.B.A. for Overseas Artist of 2011 which went to Joe Bonamassa. Third B.B.A. to be presented was for Other Instrument by Tim Aves which went to Son Henry for his outstanding musician-ship on Pedal-Steel and Lap-Steel. Next B.B.A. to be presented was for Best Guitarist of 2011 which went to Matt Schofield on behalf of Matt the award was accepted by Richard Pavitt (Nugene Records- Matt's record label).  Next B.B.A. to be presented was for Best Keyboard Player of 2011 which went to Jonny Henderson (Matt
Schofield band) on behalf of Jonny the award was, once again, accepted by Richard Pavitt (Nugene Records – Jonny's record label). Jonny also released an album 'Where Did I Leave My Keys' with Nugene Records in 2009. Last B.B.A. to be presented before the second band for this afternoon took the stage was for Best Blues Album 2011 which went to The Oli Brown Band.
MC Simon Redley did a fine job, but the crowd craved for more music. It was time for the 'Hooson' to take the stage. Jenna Hooson singer of the band got introduced as the
Janis Joplin of today, well honestly we must admit that this is a bit too much credit for this lady. Admitted she's got a voice which carries far, but she is certainly no match to ladies like Beth Hart and Dana Fuchs who make us remember Janis Joplin. We admit an enthusiastic, energetic band but major festival material?
Once again MC Simon Redley resumed the ceremony of the B.B.A. presentation for Best Harmonica Player which went to Paul
Jones (BBC 2 Radio, ex Manfred Mann). Followed by the presentation of the B.B.A. for Best Drummer 2011 which went to Wayne Proctor drummer with King King. Third B.B.A. of this interval of presentations was for Best Bass Player 2011 which went to Andy Graham (the Ian Siegal Band) for the second year around.  The last but one B.B.A. of this interval of presentations was for Best Female Vocals by Paul Jones which went to Joanne Shaw Taylor, her second one of this edition of the B.B.A. Unfortunately Joanne could not be with us because she is currently residing in the States. MC Simon Redley was seriously testing the patience of the audience but the last B.B.A. of this interval of presentations was for Best Blues Band 2011 by, once again Paul Jones and for the second time this year Oli Brown was invited to the stage because the B.B.A. went to The Oli Brown Band.
Again we continue with some music and the third band of the line-up took the stage; 'The Idle Hands Blues Band'. Funnily enough this band's singer makes us remember a band we have over in the Netherlands called 'King Mo' which (their singer's name is also Phil) performed in UK at the Linton Music Festival in 2010. The singer Phil Allen is quite a show-man, bare feted he lays down a nice show. He's accompanied by a very interesting (!!!) guitarist Dave Robinson, Jamie Burns on bass and Paul Heydon on drums. All in all, fun to watch and listen to.
MC Simon Redley (sometimes suspected of thinking he was hosting the Apollo as a stand-up comedian) lead the audience into the final interval of B.B.A. presentations. First
of the last four B.B.A.'s of 2011 was presented for Best Blues Broadcast 2011 and went to Paul Jones; his second one of today! Second of the last four B.B.A.'s of 2011 was presented for Best Young Artist 2011 and went to Chantel McGregor, a very lovely girl ànd talented guitarist! Last B.B.A.for this year's edition 2011 to be presented is the B.B.A. for Male Vocalist 2011 presented by Paul Jones to the winner Ian Siegal. Then, totally unexpected, another award was about to get presented and introduced by Ms. Fran Leslie (Blues in Britain). This time the award is a 'Lifetime Achievement Award' but for who? For a
moment we thought that B.B.A. Chairman Barry Middleton (ex owner of The Running Horse – Nottingham) might get honoured for all his effort promoting  Blues Music on the North. Listening to Fran's introduction revealed the person in question, once again Paul Jones was invited onto the stage to receive this award.
The band who had the honour to close this edition of the Newark Festival was Tim Aves' band '
Wolfpack
' , this band has a familiar face in their line-up; Hokie Joint's Joel Fisk on guitar!! Tim's regular bass-player Rob Barry was not able to make it to the festival but is being substituted
by a lady bass-player Claire Black and on drums Tim is accompanied by Paul Lester. Apparently we're in for a party according to the 'in-crowd' visiting this festival! Tim on blues-harp, vocals and guitar is a real entertainer but not afraid to share the stage with some of the bigger names from the festival's line-up who were still lingering around. By inviting Giles King and Ian Siegal on stage he creates the inevitable….the jam!! Tim himself leaves the stage and does his version of 'a Buddy Guy and a Guy Forsyth' wrapped into one!! Fantastic entertainer, lovely man and musician, why didn't we see him before we were asking ourselves?
Compliments to all volunteers involved, some of whom have travelled to the different summer blues festivals around the UK, carrying an acoustic guitar, in order to get it signed by head-lining musicians for this year's raffle. We've have enjoyed this festival, despite the weather, enjoyed it's visitors and can honestly recommend this festival to the Dutch.
Visit José's photogallery of the event:
Please also visit: