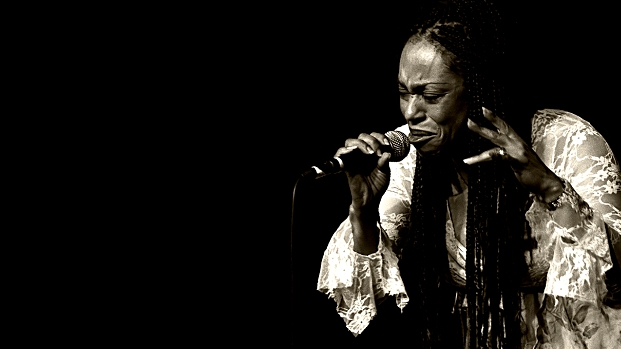 zondag 30 januari 2011, Rijswijkse Schouwburg, Rijswijk.
review door: Giel van der Hoeven; foto's door: Arjan Vermeer
De man die voor ons stond bij de kassa bestelde een kaartje voor Georgie Fame… hij had net zo goed naar een kaartje voor Albert Lee, Andy Fairweather Lowe of Beverley Skeete kunnen vragen. Want stuk voor stuk waren het topmusici die afgelopen zondagavond aantraden in de Rijswijkse Schouwburg. Maar de man waar het allemaal écht om draaide was natuurlijk Bill Wyman, sinds 1997 medeoprichter en bandleider van The Rhythm Kings. Aanvankelijk samen met zijn muzikale partner voor het leven Terry Taylor, die deze tour door ziekte geveld afwezig was. Niettemin was de voormalige Rolling Stones bassist (74) goed geluimd en ondeugend tegelijk. Of het nuttige van zes glazen wijn (volgens zijn eigen zeggen) daar debet aan was laten we maar in het midden. Aan de stoïcijnse Stille Stone is, al zolang hij een podium betreedt, verder toch weinig emotie te bekennen. Ogenschijnlijk gelaten ondergaat hij het muzikale feestje van de vitale bejaarde club, waarvan het saxofonistenduo Nick Payn en Frank Mead al grappend en grollend de meeste aandacht opeisen. Natuurlijk niets vergeleken met Jagger en Richards welke Bill Wyman ongeveer 31 jaar lang rare fratsen voor zijn neus (en naar verluid achter zijn rug om) uit heeft zien halen.
Met de The Rhythm Kings staat er niet alleen méér dan 500 jaar ervaring op de planken, maar ook een grote diversiteit aan muzikaal inzicht. Je kunt het zo gek niet opnoemen of de acht mannen en die ene dame Beverley Skeete zingen- en spelen het. Blues, jazz, soul, ballads, cajun, swing, early rock 'n roll… bovendien nemen maar liefst zeven van de negen muzikanten ook lead-vocals voor hun rekening! In ruim tweeëneenhalf uur tijd krijgen we een muzikale bloemlezing uit het voorgenoemde oeuvre voorgeschoteld. Geserveerd met veel enthousiasme, respect, humor, zelfspot en een vleugje cynisme. Georgie Fame opent de avond met een kort eerbetoon aan zijn voorganger annex stand-in Gary Brooker met het spelen van de eerste tonen van 'A Whiter Shade Of Pale' op zijn Hammond orgel. Daarna volgt een kwartet swingende klassiekers: 'I Got A Woman', 'Jump, Jive And Wail', Sweet Soul Music' met een duet voor 2 saxen, en 'Chicken Shack Boogie' gezongen door toetsenist Geraint Watkins. Welke vervolgens zijn accordeon ter handen neemt en tot grote hilariteit van het publiek 'Tulpen uit Amsterdam' speelt. "Hmm, not quite what I expected" is Bill's droge reactie. Gelukkig ging de oer-Hollandse jolijt over in Clifton Chenier's Cajun kraker 'All Night Long'. Bij het horen van 'Harlem Shuffle' een duet door Beverley Skeete en Andy Fairweather Lowe spitste de aanwezige Stones-fans (weer veel Tong T-shirts in de zaal) even extra de oren. De R&B song is origineel van het duo Bob & Earl uit 1963, maar Bill en zijn voormalige kornuiten maakte er faam mee in 1986. Het langste nummer van de avond was de sing-along medley 'Hit The Road Jack' met daarin flarden van 'Is You Is Or Is You Ain't My Baby', 'Fever' en Van Morrison's 'Moondance' met een mellow bariton saxsolo van Nick Payn om in weg te zwijmelen. Albert Lee mocht zijn vocale en muzikale kunsten vertonen in 'That's Rock 'n' Roll' en in de Little Walter jazzstandard 'Just Your Fool' uit 1960 was Frank Mead weer aan de beurt om erop los te blazen met zijn saxofoon. Geraint Watkins zong de ballad 'It's Raining So Hard', Beverley Skeete de CCR rock song 'Run Through The Jungle'. En Bill zelf sloot de eerste set vocaal af met een 'eerbetoon' aan de man die het rock and roll lied 'You Never Can Tell' in 1964 schreef; Chuck Berry. "C'est la vie", say the old folks!
Na de pauze: soul door Beverley (It's A Mans World) gevolgd door 'Jitterbug Boogie' geschreven door de Dirty Boys Terry Taylor & Bill Wyman zelf. 'Three Cool Cats' bekend van The Coasters ging via een altsax solo van Frank Mead zwoel over in het patriottische Cubaanse 'Guantanamera'. Een verrassende swingversie van 'Johnny B. Goode' gezongen door Garaint en Andy Fairweather Lowe zijn minutes of fame waren aangebroken met de rhythm and blues standard 'Route 66′. Andy vertelde de gitaarsolo van deze song destijds geleerd te hebben door goed naar Keith Richards te luisteren. Waarop zijn vader fel had geageerd: "Get a job!". "And look at me now: I'm 63 and I'm still working!" riep Andy zondag niet zonder cynisme. JJ Cale's 'Any Way the Wind Blows' staat al jaren lang op de setlist van The Rhythm Kings dat geldt ook voor 'I Just Wanna Make Love To You' van Willie Dixon. Aan 'Just For A Thrill' het oudste lied van de avond hing weer een verhaal. Een compositie van Lil Hardin Armstrong, Louis Armstrong's 2e vrouw vertelde Watkins, "written just after Bill left school", namelijk in 1927. En zo bleven de heren gedurende de hele avond elkaar vliegen afvangen. 'I'll Be You're Baby Tonight' (Eric Clapton) gezongen door Lowe, Nick Payn op de mondharmonica en Frank Mead met tamboerijn. Albert Lee zong 'I'm Ready' van Fats Domino en 'Honky Tonk Women' werd door het publiek met een staande ovatie ontvangen en meegezongen. De toegiften bestonden uit 'Crying In The Rain' (Everly Bros.) en de sophisticated bluessong 'Days Like This' van Mose Allison door Georgie Fame. "Allison werd geboren in 1927, het jaar waarin Cardiff de FA Cup won", voegde de uit Wales afkomstige Garaint Watkins trots toe. Met 'Tear It Up' werd de aangename les in 85 jaar muziekgeschiedenis door meester warhoofd Albert Lee vocaal afgesloten. Alle leerkrachten – de charmante juffrouw Skeete voorop – wisten gedurende de hele les de motivatie van de toehoorders prima op peil te houden. En het stoutste jongetje van de klas (met zijn rode bas) was weer niet van zijn plekje afgekomen. Bill is een bijzonder kind van 74, en dat is-ie!
 
SETLIST:
01) Intro: Whiter Shade Of Pale
01a) I Got A Woman
02) Jump, Jive And Wail
03) Sweet Soul Music
04) Chicken Shack Boogie
05) Intro: Tulips From Amsterdam
05a) All Night Long
06) Harlem Shuffle
07) Hit The Road Jack [sing-along medley]
08) That's Rock 'n' Roll
09) Just Your Fool
10) It's Raining So Hard
11) Run Through The Jungle
12) You Never Can Tell Pause
13) It's A Mans World
14) Jitterbug Boogie
15) Three Cool Cats/Guantanamera
16) Johnny B. Goode
17) Route 66
18) Anywhere The Wind Blows
19) I Just Wanna Make Love To You
20) Just For A Thrill
21) I'll Be You're Baby Tonight
22) I'm Ready
23) Honky Tonk Women
Encore:
24) Crying In The Rain
25) Days Like This
26) Tear It Up
LINE-UP:
Bill Wyman – bass/vocals
Albert Lee – guitar/vocals
Beverley Skeete – vocals
Graham Broad – drums/background vocals
Nick Payn – saxes/mouthharp/percussion
Frank Mead – saxes/flute/percussion/background vocals
Geraint Watkins – keyboard/accordion/vocals
Georgie Fame – organ/vocals
Andy Fairweather Lowe – guitar/vocals