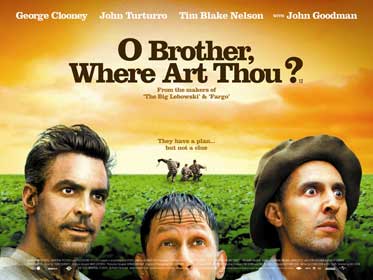 Momenteel loopt er bij De Volkskrant een actie om het gehele Coen Brothers film ouvre te sparen (direct te kopen). Een absolute aanrader met The Big Lebowski en O Brother, Where Art Thou als toppers! Joel en Ethan Coen (the Coen Brothers) is een Amerikaans filmmakersduo, vooral bekend van eigenaardige postmoderne misdaadkomedies en films noir.
Coen Brothers The Complete Collection – 14 dvd's in verzamelboek.

[© 2003 Universal Pictures. All Rights Reserved]
Joel en Ethan Coen, ook wel bekend als De gebroeders Coen, is een Amerikaans filmmakersduo, vooral bekend van eigenzinnige postmoderne misdaadkomedies als The Big Lebowski, O Brother, Where Art Thou? en Burn After Reading, en neo noir-films als Blood Simple, Raising Arizona, Fargo en No Country For Old Men. In de filmwereld worden de broers ook wel de "tweekoppige regisseur" genoemd, omdat ze meestal zeer nauw met elkaar werken en dezelfde ideeën delen over hoe hun films eruit moeten gaan zien.
De broers regisseren, produceren en schrijven hun eigen films, waarbij in hun vroegere films Joel over het algemeen de regie voor zijn rekening nam en Ethan elke film produceerde. Sinds The Ladykillers hebben de broers echter voor elke film zowel de regie als de productie samen gedaan. Ook hebben ze bijna al hun films zelf gemonteerd. Hierbij gaan beide broers schuil onder het pseudoniem "Roderick Jaines".
Joel Coen werd op 29 november 1954 geboren in St. Louis Park, een buitenwijk van Minneapolis. Hij is al sinds 1984 getrouwd met actrice Frances McDormand en samen hebben ze een geadopteerd zoontje genaamd Pedro. Ethan Coen werd geboren op 21 september 1957, eveneens in St. Louis Park. Hij is getrouwd met Tricia Cooke, die ook de montage deed voor drie films van de gebroeders Coen. Hun beide ouders zijn hoogleraar: vader Coen is hoogleraar economie, moeder Coen hoogleraar kunstgeschiedenis. [Bron: wikipedia]

Tribute to the Oscar-winning filmmakers 1984-2007
Filmografie
Blood Simple (1984)
Raising Arizona (1987)
Miller's Crossing (1990)
Barton Fink (1991)
The Hudsucker Proxy (1994)
Fargo (1996)
The Big Lebowski (1998)
O Brother, Where Art Thou? (2000)
The Man Who Wasn't There (2001)
Intolerable Cruelty (2003)
The Ladykillers (2004)
No Country for Old Men (2007)
Burn After Reading (2008)
A Serious Man (2009)
True Grit (2010)

Meer filmtips hier.